Comic Non-Sans: Saying Good-Bye to "Penny & Aggie"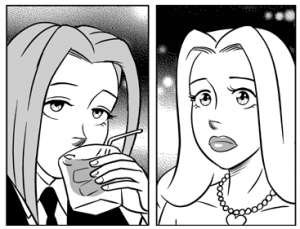 It doesn't matter how many projects of your own you finish, or how many you watch end — it's always a bit of a stunner to watch the ending of a webcomic play out.  And it's definitely a stunner to see the ending of a comic that has undergone multiple metamorphoses, be they plot or thematic or artistically.
When T Campbell and Gisele Lagece kicked off "Penny & Aggie" in September 2004, it looked for all the world like a typical high school frenemy (sorry, I really can't stand the word "frenemy" but it works here) story.  And for a bit of time, that's what it was.  Penny was the pretty, popular girl; Aggie was the eccentric, artistic outsider.   And they didn't get along.
But as it evolved, Gisele's art style grew slicker, T's writing grew edgier, and it morphed into something far more adult.  In 2006, the storyline Behind Closed Doors received a PG13 warning in the site's archives.  The comic continued to grow up, and while the divide was noticeable when the level of the subject matter addressed changed, it never lost its initial sensibilities or underlying theme of one of the most violent things in the world: rivalry between teenage girls.
Artist Jason Waltrip, a long-time collaborator of T's, took over artistic duties in May 2009, around the beginning of the storyline Darren, Darren Danforth, Who Are You? Jason stuck close to Gisele's style, but I remember when the switch-up happened, and (as is true of anything that changes) the fans didn't necessarily adapt quickly.  In the end, he carried P&A extremely well through its final two-and-a-bit years.
At the moment, though, pennyandaggie.com is still going strong — because there's more to tell.  Said T last Wednesday:
As some of you already know, there's a new project on the way, and you're going to get to see it finish taking shape, right here.  Penny and Aggie's story is pretty much over, but a couple of their friends still have adventures to come.
I, for one, am looking forward to seeing both the creative process in action and the results.  For now, though, thanks again to T, Gisele, Jason, and all their collaborators and guest artists for a really fantastic seven-year-run.  I think we're all looking forward to seeing what happens next.
Posted on October 4, 2011 at 01:00 by
Kara Dennison
·
Permalink
In:
Columns
,
The Written Word
,
Webcomics
,
Webcomics
· Tagged with:
frenemies
,
gisele lagece
,
high school
,
penny and aggie
,
spinoff
,
t campbell
,
Webcomics