Musical Taste Review: Jonathan Coulton – Artificial Heart
Jonathan Coulton – Artificial Heart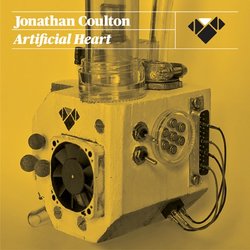 Jonathan Coulton has been around for a while now. Most people (including myself) first became aware of him with the end credits song for 2007's Portal, though he had previously released multiple works, his 2006 project Thing A Week resulting in some of his best known songs.
On his eighth studio album, a couple things have changed. First, Coulton worked on the album with They Might Be Giants, including recording it in their producers' studio. And second, and slightly scarier, at first glance the geekery has been toned down, with more serious songs here than ever before. But should you really be worried?
Not at all. This album is Coulton to the core.
The album has a lot in common with his previous work. Once again, we're given the witty lyrics and excellent writing that we've come to expect. He writes well, breathing life into the many characters that populate his songs, investing you into their two and a half minute lives. While these are definitely pop songs, there is nothing vapid about them, as he addresses some fairly heavy issues, though in a style you may not be used to. At least, I can't recall a previous song that dealt with the end of the world from the point of view of a newscaster the way "Good Morning Tucson" does.
The music is excellent as well, though this is the most noticeable difference between Artificial Heart and his earlier work. Previously, his songs were musically rich, but nothing like this time around. There is a feel of the big studio in the production values, and you feel the influence of TMBG right off the bat with the horns that introduce album opener "Sticking it to Myself". However, the sheer variety of musical genres on display is pure Coulton, from sing and clap-along rock to slow and breathy electronica. The album is drawing comparisons to Ben Folds and it's easy to see why. He's also recruited a few guest artists, with Sara Quin of Tegan & Sara turning in an excellent vocal performance on new version of "Still Alive" and folk great Suzanne Vega joining on the beautiful "Now I am an Arsonist." Fellow John Hodgman pal John Roderick also takes over lead vocal duties on the fun villainous love note "Nemeses".
Coulton has taken on some heavier subjects, including multiple songs about relationship strife ("Alone at Home", an apparent sequel to previous song "Shop Vac" a standout) and "Today with your Wife", a particularly touching meditation on the death of a friend. He can jerk a tear with the best. But then you get to his song in French, "Je Suis Rick Springfield." I was listening to it in the back room at work, and a coworker majoring in French walked by, listened and said "He's not really French is he?", aghast at his apparent awful accent. When I said no, she listened again and started cracking up at the lyrics. And the album closes with an ode to that awesome bit of facial hair "The Stache."
Overall, the album is a quintessential Jonathan Coulton album. However, combined with his current tour with They Might Be Giants, it might also be a step out of relative anonymity to a wider audience. And no one deserves it more than he.