Blightyvision: "Merlin"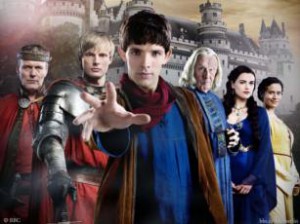 Created by Julian Jones, Julian Murphy, Johnny Capps, and Jake Michie
Starring John Hurt, Colin Morgan and Bradley James
This fell into my lap for three major reasons.  One, I love anything Arthurian — or, at the very least, will give it a chance.  Two, this is apparently up there with "Being Human" on the list of shows you're "required" to see to be a modern Anglophile.  And three, it looked to take itself about as seriously as the first two series of "Robin Hood." You know, the ones I liked.
The creators of "Merlin" admitted flat-out early on that they were going for a "Smallville" feel in general, and even with my limited "Smallville" knowledge, I can tell they pretty much got what they were going for.  "Merlin" is a prequel of sorts, but one of those prequels that's fast and loose enough to go on for however long people feel like running it for.
Colin Morgan plays the titular character, the put-upon servant of Prince Arthur (James) who hones his impressive magical powers under the watchful eye of Gaius (Richard Wilson of "Cluedo" and "One Foot in the Grave").  You see, Arthur isn't actually aware that his servant is a wizard, mainly because his father Uther Pendragon (Anthony Head at it again) wants all practitioners of magic dead.  Meanwhile his ward Morgana (Katie McGrath) is using her own magical wiles to earn her "rightful" place on the throne, whilst Arthur eventually breaks away from his bromance with Merlin and falls for Morgana's servant Gwen (Angel Coulby).
The Arthurian lore in "Merlin" is essentially used as needed, rather than being adhered to in any way.  Why does Arthur need to find the Fisher King?  To get his trident … erm … obviously.  Where does Arthur gather his knights?  Tournaments, taverns, and/or peeling them off Gwen.  The elements are all there, and you can tell the writers know the stories.  But you can also tell they're not trying to present an "historically accurate" or "true to the original" version.  They're just mucking around.  And there's something rather nice about that vague self-awareness: they're a million miles off track, they know they're a million miles off track, and look, farting fairies!
Oddly enough, that's one of my only complaints about the show.  I have a very low tolerance for juvenile toilet humor — I just don't get it.  Bodily functions seem to be "Merlin" shorthand for identifying unappealing fae, and while I suppose it gets the point across, it seems jarringly lowbrow.   Not that the rest of the show is particularly highbrow, mind; it just feels lazy and gets annoying quickly.
With old hands Tony Head and John Hurt (as the voice of an irritable dragon at Merlin's beck and call) amongst the regular featured cast, you know there are going to be bright spots regardless of how the main young cast fares.  Fortunately, Morgan as Merlin is entertaining and empathetic, and as the show progresses you get a sense of him getting a better and better feel for the character.  Possibly his high point is toward the end of the third series, when he must down an aging potion and pretend to be an angry old wizard in order to clear Gwen of accusations of witchcraft.  In those brief scenes, even though they were played for laughs, I got the sense that he knew exactly what he was doing.
There's an impressive line of cameos as well, including Miriam Margolyes as one of the aforementioned farting fae, Michelle Ryan of "Jekyll" and "Bionic Woman" fame as Nimueh, and Warwick Davis as a strange little magical bridge guard standing between Arthur and the Fisher King.  There's also a bit of "hey it's that guy" fun to be had from a fictional standpoint, as once in a while we're presented with a prettyboy knight with a familiar name passing through.
Overall "Merlin" is diverting, and while it has plenty of moments of drama, it doesn't take itself seriously.  I'm heavy into Arthuriana, and I found the massive inaccuracies to be entertaining rather than annoying.  Of course, Arthurian legend is just one massive fanfic, anyway …
The fourth series of "Merlin" starts 1 October on BBC1.  At present, you can only get Series 1 and Series 2 on DVD, but basically Series 3 has talking dragons and farting fairies and Morgana being two-faced so it shouldn't be hard to catch up.