Blightyvision: "The Catherine Tate Show"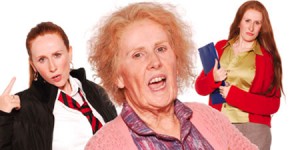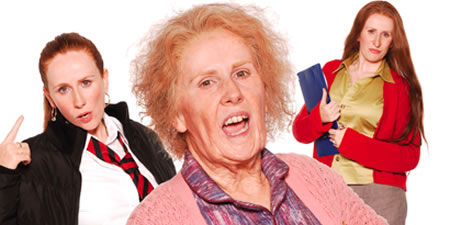 Written by Derren Litten and Mathew Horne
Starring Catherine Tate, Mathew Horne and Niky Wardley
When Catherine Tate showed up in the Doctor Who special "The Runaway Bride," it was pretty well shrugged off as "Oh, hey, check out the Christmas guest star!"  But when she reprised her role as Donna Noble for an entire series, it took a lot of work to get out from under the fandom hue and cry of "Oh, God, not the crazy bride chick again" and "Come on, you can't cast a comedian in a serious role like this."
The thing of it is — and this is what allowed Donna to survive from a writing standpoint — Catherine Tate is about as forward and stage-stealing as a comedienne as David Tennant is as a dramatic actor.  Add to that the fact that some of her best (albeit woefully unsung) characters on the show take as much serious performance as comic timing, and it's not that huge a step to Lauren Cooper to Super-Temp.
Some of her characters have already stepped outside the show into common culture (the aforementioned Lauren at the forefront of these, especially after appearing opposite both Tennant and Tony Blair in one-off sketches).  But the variety of returned-to characters is larger even than many two-man shows, and while some show up for a series and then disappear, the cast of characters is added to rather than rotated out.  Just look at the third series opening to see how many little plot-lines you end up following.
Tate's supporting cast (and it's a bit unfair to call them "supporting" because they're omnipresent and equally talented) includes Matthew Horne (Gavin of "Gavin & Stacy"), Niky Wardley ("All the Small Things"), and numerous others from series to series.  They're all as memorable as the titular star, and are true cast members rather than backup.  In the last series, there were a fair number of notable cameos, including Paul O'Grady as himself, and another red-headed Doctor Who companion — Bonnie Langford.
All right, I've addressed the show and the fact that it's good.  Now I want to get to the part that interested me most throughout the show, and that's this — look at that makeup. No, seriously, guys.  Look at the makeup.  Look at the wigs.  Check it out.  That is not low-level sketchy comed stuff.  Yeah, you'll run into skits where one of the characters has a hideous birthmark or a ridiculous nose that's obviously there for comedic effect.  But one Lesley Noble appears to have gone the extra mile for Tate's various characters.  It's crazy.  Crazy in the good way, mind.  But as much as I enjoyed the comedy itself, I would stop on occasion and think "Dear God, that's better old-age makeup than you see in most BBC dramas."
My only true complaint about the show is the same as anyone will have for any sketch comedy show — I didn't like some of the characters.  I found a couple that outstayed their welcome, while a couple others I liked far more (including the Aga Saga Woman — a rich upper-class mother who turns food expiration dates and lack of good brie into earth-shattering emergencies) didn't get as much screen time as I would have liked.  But that's all a matter of preference; I know there are people who thought Bernie the nurse was the best part of the show, and I could've done without her pretty much entirely.
But you know what?  If that's the worst thing you have to say about a sketch comedy show, that's doing pretty well.  And I think it's a show everyone should give at least a passing glance — possibly via isolated YouTube clips first to get a taste of different characters.  I marathoned the whole thing in a grand total of two sittings, and I didn't find myself getting bored of it at any point.  And I've got one hell of a bad attention sp oh look, moths!
"The Catherine Tate Show" series 1 and series 2 are available on DVD, with all three series (albeit sadly not the Christmas special) now streaming on NetFlix.  I could possibly lead out with a catchphrase from the show, but I ain't bovvered.