Lincoln's Movie Night: Super 8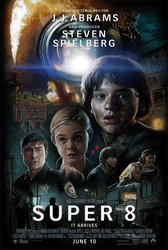 Super 8


Directed and written by J.J. Abrams
Starring Elle Fanning, Kyle Chandler, Noah Emmerich, Ron Eldard and more
Rating: PG-13 for intense sequences of sci-fi action and violence, language and some drug use
Do you remember the first time you saw ET? Close Encounters of the Third Kind? The Goonies?
Well, welcome back to that. With a bit of Godzilla or Alien thrown in for good measure.
JJ Abrams' latest, Super 8, is a vintage summer throwback. Set in 1979, it tells the story of a group of best friends who are making a zombie movie to enter in a film contest. (The film itself can be seen during the end credits. Stick around. It was actually written by the young actors involved.) One night, while filming with one of the most popular girls in school, they witness someone purposely cause a train crash, and barely survive the aftermath. Hiding what happens, once the air force shows up, they have to face facts: something was on the train.
Whether from the fact that he produced it, or more likely, that Abrams is a huge fan, the film feels like vintage Spielberg. I can't remember the last time I saw the classic Amblin logo in front of a movie, but even that little touch of a past age was nice. And once the movie started, I was watching something very familiar but wonderfully new.
The cast is one of the strongest points in this film. The kids that they've cast as the main gang is memorable in much the same way that after all of these years we still remember each of the Goonies. For the most part they're unknowns, with Elle Fanning the sole big name, turning in a wonderful performance as the  unattainable Alice Dainard. These kids carry the film, being both kids and commanding presences.
The story is excellent. While it may seem as if others have covered this ground before, everything is fresh, broad seeming characters have endearing quirks, and we're given jokes that in other hands might seem stale (an exchange over a Walkman got many a rueful chuckle.) The science-fiction elements are handled deftly, with timely political references and neighborhood boogeymen making the build towards the third act reveal all the more suspenseful.
That reveal? I'm not going to spoil it for you, though we have gotten hints through the Super 8 ARG for the last few months. Let's just say that Abrams uses things from both his and Spielberg's oeuvre to show us something we haven't seen before.
Like many things we've seen from this director, this benefits from going in open-minded with no idea of what you're about to watch. Don't read spoilers. Don't look up photos. Just go see it, sit back and enjoy seeing the best movie of the summer thus far.