Dark Tower still in the works, Universal trying to minimize budget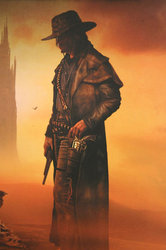 Well, it's not canceled yet.
Ron Howard's adaptation of Stephen King's The Dark Tower is still with Universal after rumors that it was being put into turnaround proved to be false. However, according to Deadline, they're also pushing back the start date and trying to slim the budget down to something more manageable.
Originally schedule to begin shooting this summer, Universal has until July to give Howard the greenlight, or the rights will go back to King, Howard and the other filmmakers.
The Dark Tower has Javier Bardem attached as Roland Deschain and will tentatively be three films and two limited television series. It is to be directed by Howard from a script by Akiva Goldsman (Fringe, I am Legend).