Blightyvision: "Episodes"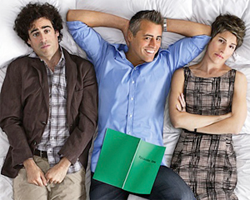 Written by David Crane and Jeffrey Klarik
Directed by James Griffiths
Starring Stephen Mangan, Tamsin Grieg, and Matt LeBlanc
I've had this talk with Trisha before re: American remakes of British TV shows, most recently with "Top Gear" (which, I'll admit, is a bit of all right when you get right down to it).  As a rule, I don't like them.  I don't see a point to them.  Yes, they can be good, but for every "Sanford and Son" there's a "Life on Mars," and for every "Office" there's two tries at "Red Dwarf" and something that may or may not think it's "Blackadder."
In point of fact, I'd delayed beginning a study of American remakes until returning from my trip to the UK last month.  And it just so happened that, while poking through the in-flight entertainment on my way over, I turned up a random episode of a show that addresses just that.  Billed by the genial British Airways back-of-the-seat narrator as "the best in new British comedy" but technically a US/UK co-production, "Episodes" is a brutal, uncomfortably humorous look at what can happen when America wants to play with England's toys.
Despite their secondary and tertiary billing, our heroes are writers Sean and Beverly Lincoln (Mangan and Grieg), a happily married couple and creators of the award-winning comedy series "Lyman's Boys."  Upon receiving their latest BAFTA, the Lincolns are approached by TV producer Merc Lapidus ("Mad About You"s John Pankow) to come to LA and make a pilot for an American version of the show.  The two are excited at first, until they learn that … just maybe … Merc hasn't in fact seen the show.
From there, the show is a study of the devolution of "Lyman's Boys" — about the elegantly sarcastic headmaster of a boarding school — into "Pucks!", a barely-related sitcom about a high school hockey coach.  The first thing to go is Shakespearean actor Julian Bullard (Richard Griffiths playing a more endearing and far less unsettling variant of Uncle Monty of Withnail & I), who is seen as "too British" for his own lead role.  His replacement?  Matt LeBlanc, playing a particularly douchey version of himself.
But while "Episodes" has been considered by many to be a vehicle and possible career-restorer (art imitating life?) for LeBlanc, it truly is Mangan and Grieg's show.  The focus is initially on Englishmen abroad, attempting to accustom themselves not to The American Way, but more to The LA Way.  As the series progresses, though, the two begin to drift apart as LeBlanc buddies up with Sean while Beverly tries to maintain the integrity of both their show and their marriage.  By the end, the disaster that is "Pucks!" becomes almost secondary to the strain the whole production puts on their marriage.
The writing (American-made, from the minds behind "Mad About You" and — ha! — "Friends") fits well into both the American and British styles.  Were it not for the flow of the script, one might almost be tempted to think that Sean and Beverly's dialogue comes from another writer; they speak in easy, almost Wildean one-liners, while the rest of the cast follows the more familiar American sitcom joke style.  Overall, though, "Episodes" has a very English mentality at its core, both from the pacing and the quirkiness of the scenarios within each episode.
The performances in this from all sides are fantastic, especially the three lead actors.  LeBlanc goes from good-natured self-parody early on to becoming something of a proper antagonist as the series progresses, and he does it believably and while somehow managing to keep real-world Matt at arm's length.  Grieg as Beverly is pretty much whom we're called on to sympathize with when things start falling apart, but Mangan as Sean still evokes a level of reluctant understanding, even while being duped into dubious activities he can't quite wrap his mind around.
One thing I will say in reference to the supporting cast is that I could have done with a lot less Merc.  Early on he's entertaining in a sort of facepalm-y way, as he greets the Lincolns with poor variants on British accents and what he thinks are witty referential jokes (such as greeting Sean at a business lunch with "Please, sir, I want some more!").  But after this became every single one of his entrances, he started to make my skin crawl in the way any universally-recognizable racial slur might.  This was, I'm sure, intentional, but it got to the point of making me pray that the upcoming second season will open with him being hit by as large a train as the show's budget will allow for.
Yes, there's a second season commissioned.  And yes, there is somewhere for it to go; the first season seems to have ended with a continuation in mind.  At seven half-hour episodes (likely clocked in as such to accommodate its simultaneous runs on Showtime and BBC2), it's a quick watch and a fun one.  And if you're not terribly familiar with the concept of overseas remakes … well, this is a decent place to start.
"Episodes" is available to rent via NetFlix, as well as to buy on BluRay and (eventually) DVD. Not recommended to viewers with aversions to on-screen sex, drug use, cactus fights, or cinnamon-scented cologne.