Arnold Schwarzenegger back in the saddle as The Terminator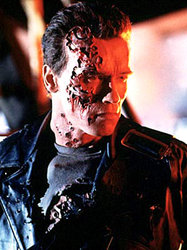 So many obvious jokes to make, so hard to not fall into that trap.
According to Deadline, a new Terminator project is being shopped around with the star that made the series what it is attached to star. Arnold Schwarzenegger is returning to the series that made him a household name with Justin Lin (Fast Five) in the directors' chair.
The Terminator films are in a tricky place right now, with a bidding war for the rights early last year. Pacificor won that and have sort of sat on them until now. But since Schwarzenegger no longer has any gubernatorial duties to perform, things are moving on that front now, with CAA shopping around for buyers. And Pacificor is being smart, with some of those they outbid for the rights looking at picking up this project, including Sony and Lionsgate.