Restrepo director Tim Hetherington, photojournalist Chris Hondros killed in Libya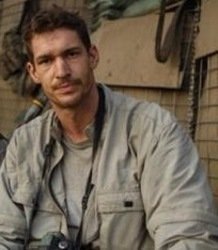 Sad news today as Oscar-nominated co-director of Restrepo Tim Hetherington and one of the photojournalists he was traveling with, Chris Hondros, were killed in a RPG attack while covering the events in Libya.
According to CNN, Hetherington, Hondros, and two other photojournalists were hit by an RPG while reporting in the city of Misrata. They were traveling with rebels and were "walking in the front line area" when it exploded, according to an anonymous informant. Details are scarce on Hetherington, but Hondros was hospitalized with a brain injury that turned out to be fatal.
Vanity Fair, one of Hetherington's employers, said he was "widely respected by his peers for his bravery and camaraderie," while Getty Images, which employed Hondros said he "never shied away from the front line having covered the world's major conflicts throughout his distinguished career and his work in Libya was no exception." Both will be sorely missed.
The other men traveling with them, Guy Martin and Michael Christopher Brown, received shrapnel injuries but appear to be out of danger after surgery.
A journalist to the end, Hetherington's final tweet, sent on Tuesday, summed up how committed he was to his work:
In besieged Libyan city of Misrata. indiscriminate shelling by Qaddafi forces. No sign of NATO.
They will be missed.