R.I.P. Elisabeth Sladen — 1948-2011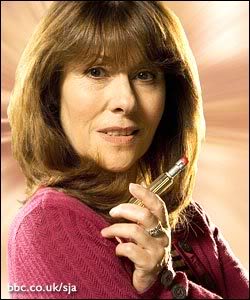 News first broke on Twitter from Doctor Who writers and actors including Nicola Bryant, Paul Cornell, and Mark Gatiss.  Now BBC News has confirmed that actress Elisabeth Sladen, known to fans as companion Sarah Jane Smith, has died at the age of 63.
Sarah Jane first entered the Whoniverse in the 1973 Third Doctor story "The Time Warrior," and has been a fan favorite ever since.  She made her way into the new series in the 2006 Tenth Doctor story "School Reunion," after which the wildly successful CBBC spinoff The Sarah Jane Adventures took off.   SJA ran for four series, and a fifth was half-completed at the time of this writing.
Lis Sladen has been a mainstay of Doctor Who fandom since the early years, and one of the linchpins holding the two eras of the show together.  I never had the opportunity to meet her, but everyone who's met her and worked with her has described her as a wonderful woman and (though we knew this) a brilliant actress.
Fans everywhere — including myself — are heartbroken to see her go.  Without the trusty companion the Doctor left in charge of Earth while he's away, somehow the universe feels a little less safe.
Our thoughts and condolences go out to her family and friends, and our hearts are with those of her fans around the world.