Strippable Cover: Author Anthony Horowitz confirms he's writing the second Tintin film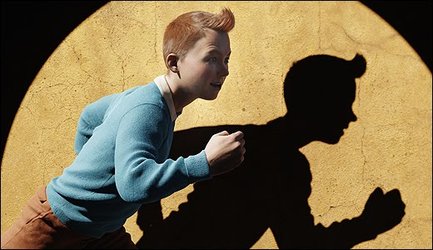 So, I'm a relatively recent convert to the cult of Tintin. I discovered within the last three years, though I do remember watching episodes of the animated series on Nickelodeon, back when they aired amazing foreign cartoons such as the titular boy detective and David the Gnome. But the books somehow eluded me, and I'm sort of glad they did. The stories are great and beautifully told, but the occasional racism is a bit edgy for kids.
I do find myself very excited for the movies. With the Spielberg directed, Jackson produced Secret of the Unicorn coming out this Christmas, the second film has been under wraps a bit. But the folks over at Bleeding Cool found a radio interview with kids' author Anthony Horowitz that sheds a little bit of light on the Jackson directed, Spielberg produced Prisoners of the Sun.
I'm working in Hollywood at the moment, I'm writing a feature film even as we speak. I've been hired to write Tintin…

The Secret of the Unicorn is being directed by Steven Spielberg and was written originally by Steven Moffat, of course the writer of Doctor Who in this country. He did a couple of drafts then it was taken over by Edgar Wright… they've got [that] coming out at Christmas and if that film is a success and works and gets an audience I'm writing the sequel to it, Prisoners of the Sun, which Peter Jackson is going to direct.

Joe Cornish is also a named screenwriter with Edgar Wright… That's only three [writers]. Three is not too bad… at the moment on the second one it's just one but you can bet your bottom dollar that by the time the film hits the screen, if it ever happens next year, that I'll be joined by one or two other names there.
Well, there you go. These are shaping up to be two of the most exciting films in the next two years. And all based on a character that has a minimal following in this part of the world. A risky and exciting gamble, and based on what I've seen so far, one that will pay off.
Posted on April 8, 2011 at 22:03 by Lincoln Eddy ·
Permalink
In:
Books
,
Columns
,
Eyes and Ears
,
Movies
,
News
,
The Written Word
· Tagged with:
Anthony Horowitz
,
Movies
,
Peter Jackson
,
Steven Spielberg
,
Tintin