Javier Bardem officially getting on board The Dark Tower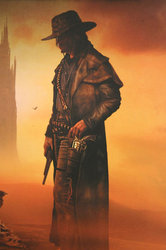 A couple of months ago, we talked about how Javier Bardem would possibly be signing on as Roland Deschain for The Dark Tower series of films and television shows. Now, it looks like that is very close to becoming a reality.
According to Deadline, Bardem's representatives, along with director Ron Howard, are finishing up the deal. Howard plans to begin production on the first film in September of this year, so it's essential to get things going here. Bardem would be playing the Gunslinger Deschain in the films as well as at least one of the television segments, with another acting as a flashback starring younger actors.