Blightyvision: Christopher and His Kind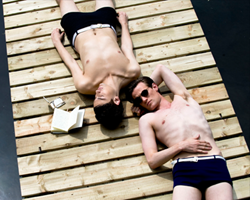 Starring Matt Smith, Imogen Poots, and Douglas Booth
Written by Kevin Elyot, based on the book by Christopher Isherwood
Directed by Geoffrey Sax
I am going to make a horrible confession, and one that an Anglophile probably shouldn't make publicly: I have not seen any of Matt Smith's work prior to "Doctor Who."  My "give him a chance"-isms really had no basis in anything but good faith.  But it's one thing to prove yourself as the Doctor — it's another entirely (as we've seen with the good Mr. Tennant and directors trying to winch back his "stage storm") to prove you can play something else.
And so here, in between series rather than after his tenure is over, we get Smith stretching out a bit with a completely different character type in a completely — compleeeeeeeeeeeeeetely — different genre.  Submitted for our approval is Christopher and His Kind, a beyond-risque take on the autobiography of English author Christopher Isherwood.  How far beyond risque?  Well, Smith as Christopher begins his narration by telling us that he's going to Berlin because it's full of pretty boys.
But Isherwood's autobiography is far more than a travelogue of sexual conquests, though he's in no rush to prove otherwise.  The story starts as such, and takes its own time to unfold into a collection of character sketches, with Christopher's own as the focal point of the piece.  His actual job in Berlin is as an English teacher, via which he meets and falls in love with the young Heinz (Booth) and becomes both his lover and benefactor.
The third major player in the story is actress Jean Ross (Poots), a green-nail-polished singer who becomes mutual confidants with Christopher as she tries to break free and make her way to Hollywood.  (Ross would later become the inspiration for Sally Bowles in Isherwood's short story "Goodbye to Berlin," which formed part of the basis for the musical Cabaret.) For a time, the story is rather Bright Young Things in its tales of Christopher's escapades and Jean's charmingly brazen public behavior.  But this is Berlin, and this is 1931, and this sort of revelry can only last so long before someone gets tripped up — especially if one of those someones is the gay brother of a very proud Nazi.
As the story is from Christopher's point of view, even the most serious subject matter is handled with a level of detached, literary levity, a sort of "Well, what can you do" hindsight.  In a rather cute spin on the concept of self-narrative, many scenes end with Christopher taking down the last few lines of the conversation we've just witnessed — so he can write it up later, obviously.
One thing I hate … I hate it so much, hate hate hate … is this idea some irate parents have that if an actor does a show aimed at (or at least accessible to) children, they are sort of morally barred from doing anything that kids can't watch from then on.  The BBC does not give a damn about this.  Because Christopher and His Kind is unabashedly explicit in both its subject matter and its bedroom scenes.
This is most definitely a Matt Smith vehicle, and I'll say this for the man: you forget who he is immediately.  If you feel any traces of "Oh, look, it's the Doctor!" they will fade away extremely quickly — which is a blessing, given how outgoing Christopher is as a character.  At least for myself, I never felt the need to resolve my image of Smith as I'd seen him before to whom he was playing at the time.  You don't get an overwhelming sense of change about him between roles, but somehow he shifts in a way that negates any danger of him being compared to himself elsewhere.
I can't reiterate enough just how unrestrained Christopher and His Kind is about its subject matter — as in this might be really awkward to watch with your family, depending on what your family is like.  But it's this willingness to not hold back that really helps establish Christopher as a character.  He's not bothered how much we know about his personal life.  If anything, he's eager to share with us, and he makes himself easy to warm to almost immediately.
The ending is pretty well as rushed as any historical piece gets once the main point of the plot has been addressed and they need to show passage of time as a wrap-up.  That aside — because that always happens — it holds together nicely and is paced very well indeed.  And fortunately, director Geoffrey Sax has learned how to light things properly in the 15 years since he did the "Doctor Who" movie, so it looks rather nice, too.
Christopher and His Kind is rated something-really-adult for sex, nudity, sex, language, disturbing themes, sex, sex, and also sex.  None of the full nudity is Matt Smith's, which may be a deal-breaker for some fangirls.  Sorry.