The Internet is Wrong, Maybe:Joseph Gordon-Levitt to play Alberto Falcone in The Dark Knight Rises
Another Edit: Now, Entertainment Weekly is reporting that a source close to production says Gordon-Levitt won't be playing Falcone. So, we appear to be back to square one. More updates as they come in.
Edit: At this point, this has not been confirmed. We will update when it is either proven true or false. However, with it being Variety, their veracity is trusted more than other sources. Thank you.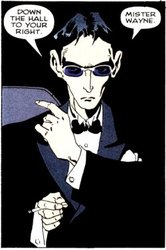 Well, this makes things a lot more interesting.
Variety reports in an exclusive that recently added cast member Joseph Gordon-Levitt will be playing young mobster (and other, more spoiler-y role, which Variety does go into; beware the link!) Alberto Falcone in The Dark Knight Rises. Juno Temple (The Other Boleyn Girl, Kaboom) has also been added to the cast recently, though apparently Nolan is keeping mum on her role for now.
Click below the cut if you want a bit of a more detailed, and spoiler heavy musing on the Gordon-Levitt's role.
For those who haven't read the magnificent Jeph Loeb Batman comic, The Long Halloween, it's a story set early in Batman's career involving a serial killer taking out underworld figures, also telling a version of Two-Face's origin. Alberto Falcone is the son of "Roman" Falcone, who appeared in Nolan's Batman Begins. I feel like I shouldn't reveal more than that here, but if you wish to spoil the storyline entirely, you can check out Wikipedia's summary.
What's interesting to note is that Aaron Eckhart is still being very evasive regarding his role in the sequel, simply saying that "Harvey Dent is dead." But with this revelation that Falcone will be appearing, does that simply mean Two-Face is alive? We'll have to wait until July 20, 2012 to find out.
Posted on March 21, 2011 at 08:00 by Lincoln Eddy ·
Permalink
In:
Movies
,
News
· Tagged with:
Alberto Falcone
,
Batman
,
Christopher Nolan
,
Holiday
,
Joseph Gordon-Levitt
,
Juno Temple
,
rumor
,
The Dark Knight Rises
,
The Long Halloween