Clarissa, Please Explain It All Now?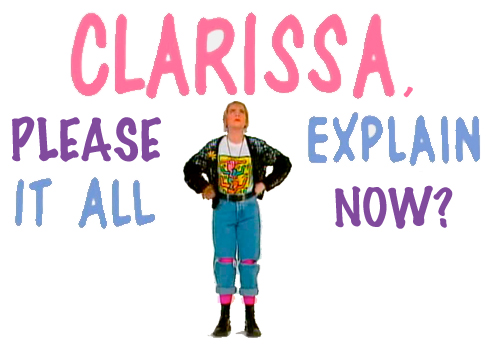 I was a single digit in the 1980's where the Barbie jingle was, "We girls do anything! Right, Barbie?" The seeds of exploration were planted. They grew in the 1990's with a "Na na na na…" Clarissa Explains It All was a necessary guide to the new female ideal – smart, unique, quirky, confident, positive, motivated and ambitious. Even Clarissa's wardrobe made Blossom cry into her hat collection. Girls, it was decided, were going to be awesome.



Clarissa Explains It All was highly profitable and cultivated a large cable audience. Naturally, network television came a-calling and CBS issued a pilot called simply, Clarissa Now. Didn't see it? Not surprised. It ran a few times on Nickelodeon and CBS did not pick it up for a full order of episodes. And now, if you were like me, your heart is pumping full of, "MUST SEE PILOT NOW!" Relax. I got this:
Clarissa Now hasn't aged well in terms of what a sitcom was in the 1990's to what television is today, but watching and eighteen year-old Clarissa in New York City to pursue her dreams with her bright-eyed optimism and confidence didn't make me snark. I was a bright-eyed eighteen year-old girl in 1999 when I moved to Los Angeles to pursue my dreams of an acting career. I wasn't watching just Clarissa, I was watching what I, and a lot of girls who grew up watching Clarissa, wound up doing – pursuing our dreams. And loving every difficult moment of it.
After the pilot was passed, Melissa Joan Hart went on to produce and star in Sabrina, The Teenage Witch. She's been in various television movies and is currently starring in Melissa & Joey. Melissa is not interested in revisiting her Clarissa past. I would like to address Melissa directly:
MJH. This is the age of the Internet. (MS Word makes me capitalize Internet so you know it's major.) The age of the reunion movies of Bring Me the Head of Dobie Gillis and The Patty Duke Show: Still Rockin' in Brooklyn Heights is over. We are the age of Funny or Die. I promise, you let it into the wind that you would like to re-connect to Clarissa via an Internet sketch, your popularity will be through the roof. Again. Also, the girls you grew up with and helped raised need you. Let us check in with Clarissa and, more importantly, with whom we all were when we were a pre-teen to see if we live up to our own expectations. Please, let Clarissa explain it all now? Just do it. It would be way cool. Na to the na na na. Love, Neva