Blightyvision: "Top Gear" 2010 Road Trips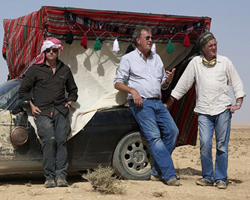 Featuring Jeremy Clarkson, Richard Hammond, and James May
So I've said before — as have others — that this era of "Top Gear" is really defined by its road trip specials.  While the show continues consistently good with its "regular" episodes (challenge, news, review, Star in a Reasonably-Priced Car, in-studio silliness, end of challenge), it's when the guys hit the road that you see why these three have lasted together as long as they have.
"Top Gear" closed out 2010, and drummed up interest for the current series, by airing a pair of road trip specials.  The first, we knew about — a somewhat better-advised trip to the United States, specifically my neck of the woods — and the second was one of those that screamed either "bad idea" or "best idea."  More on that one later.
The first of the pair to air was a far more good-natured trip Stateside, starting in the lovely Blue Ridge Mountains.  The stipulation?  Bring whatever the hell car you want, and drive it.  In other words, not their usual rough stuff.  However, their cars were put to the test when it came to braking, steering, and … drive-by shooting.  Yeah, they still haven't taken particularly kindly to the whole thing of Ben Collins outing himself, though what they do about it needs to be seen for oneself.  The ordeal ended with the three driving to New York to appear on a locally-produced live show.  Again … see it to believe it.
The second one was where it got rough.  Think about it for a moment, if you will — you have three men known for traveling long distances in odd conditions.  What would you make them do for Christmas?  Yeah, it's pretty much what you think.  After purchasing 2-seater convertibles for under $5000 apiece, the boys were dropped in the East and sent on their way to Bethlehem to bring gifts to the "baby Jeezez."
Thing being?  The show's definition of "the East" was, in fact, Iraq.  Thus, between breakdowns and typical "Top Gear" silliness, we're offered a look at what the news doesn't cover or make particularly clear concerning the actual state of the Middle East.  For example, a part of their driving route planning actually lands them in a more dangerous area than where they'd started.  A learning experience for many viewers, I'm sure, not just our intrepid hosts.
The return to America is, for the most part, far more lighthearted and upbeat.  They do break for some ill-advised Christmas gift-giving ideas, but the majority of the special is devoted to straight-up antics.  And for long-time fans who had to witness the not-so-warm welcome we gave them last time, it's a bit of a relief to see them getting a better impression of our country than before.
The Bethlehem special, though … isn't always so upbeat.  Even not taking into account what the boys witness during their trip (which is actually unexpectedly pleasant in a couple okf places), there are plenty of scary moments just amongst themselves.  Have we ever had a hospitalization before this?  No, I'm really asking.  Because I don't think we have.  There's a first time for everything, I suppose, even on "Top Gear."
The pair of specials served as a great tease for the new series, and even handled that pesky issue with the Stig….  I won't say how, but they have a lot of fun with it and get out a fair bit of aggression in the process.  As with other specials, these really do show the heart of "Top Gear" and are both fun and — yep — insightful.  Just goes to show that they don't have to shoot them to the moon to keep up with their previous daring escapades.
"Top Gear" airs on BBC America Monday nights at 9 PM.  You can get both of these episodes via iTunes on the BBC America website.  Warning: don't watch the Bethlehem special over dinner.  Seriously.  Middle Eastern food wasn't very kind to Hamster.
Posted on February 24, 2011 at 01:00 by
Kara Dennison
·
Permalink
In:
Columns
,
Television: British and Canadian
· Tagged with:
Bethlehem
,
cars
,
Englishmen abroad
,
how hard can it be
,
james may
,
jeremy clarkson
,
richard hammond
,
road trip
,
The Stig
,
Top Gear