The Oscars refuse to have fun: Banksy Edition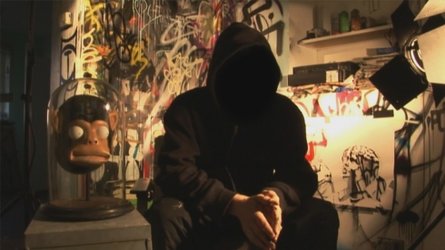 Graffiti artist Banksy is well known to be a political, anti-consumerist provocateur. He's taken the piss out of everything from Disney to Paris Hilton. However, though he may be nominated for an Oscar for his brilliant Exit through the Gift Shop, it looks like the Oscars are refusing to take part in the fun.
Over at Entertainment Weekly, the Academy's executive director reveals why they told Banksy he couldn't come to the awards and potentially accept his statuette while in disguise:
The fun but disquieting scenario is that if the film wins and five guys in monkey masks come to the stage all saying, 'I'm Banksy,' who the hell do we give it to?
Heaven forbid there be any sort of humor in these ceremonies.
Personally, I think the Oscars are missing a bet. Let him come to the ceremony in disguise. Let hijinks ensue. Odds are he's going to probably still do something, be it on the red-carpet or in the ceremony itself.  It'd add some levity to a ceremony that has had very little to offer in the way of surprises recently.
As for what he's up to now, check out Capturing Banksy. They catalog his work, and he's already been busy in the LA area. Those pieces he's done so far are below the fold.
This piece has been defaced (if that can be done to illegal graffiti? I don't know) and the vandals humorously tried to pin blame on Mr Brainwash, the subject of Banksy's documentary.
This piece was removed from the wall and reportedly sold for $8,000 on ebay.
This was taken down quickly but the company who owns it plans to keep it and hang it in Las Vegas.