Blightyvision: "The Mighty Boosh"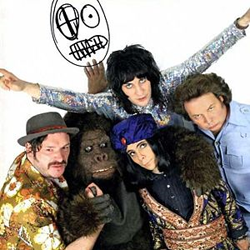 Starring Julian Barratt, Noel Fielding, and Michael Fielding
Directed by Paul King and Steve Bendelack
Written by Julian Barratt and Noel Fielding
So even if you're not much of an Anglophile (and if you're not, I hope you're getting a proper education from my weekly ramblings), you may well have heard of "The Mighty Boosh."  For a brief time it was one of a small handful of British series run on Adult Swim — the others being "Look Around You," "The Office," and "Garth Marenghi's Darkplace."  Though I'm not exactly a huge proponent of live programming on Cartoon Network despite Adult Swim's marked demographic split from them, I will admit to this being a very wise choice thematically speaking.
"The Mighty Boosh" as a television series was a spin-off of material from the comedy troupe of the same name, headed up by Barratt and Fielding.  From its beginning, the show (as with much of the group's original material) focused on two zookeepers: socially-inept jazz fan Howard Moon (Barratt) and prettyboy fashion hound Vince Noir (Fielding).  Though they technically had a rather "grounded" setting, the plots of various episodes had them going everywhere from night clubs to the arctic tundra, and the humor was primarily surreal and occasionally very arbitrary-seeming.
The second series left the Zooniverse behind and transplanted the action to Vince and Howard's flat.  Some elements and characters were imported, specifically the shaman Naboo (played by Noel's brother Michael) and the talking gorilla Bollo, who became Naboo's familiar.  And the humor of this series makes the previous one look downright Cambridge tweed-y, introducing a whole flock of shaman, a possibly lobotomized talking moon, and even more nonsensical plots.  The third series — which took place in Naboo's shop below the flat — ratcheted it back a bit, but still maintained the anarchic comedy style and a good number of the previous series' recurring characters.
Now, I won't lie — while the Boosh are really damn entertaining, this is a comedy styling you can get many, many other places (just look for any British comedy troupe that thrived during a conservative government, basically).  What truly sets them apart is the fact that they incorporate music inextricably into their material.  Barratt is a musician as well as a comedian, and composed all the tunes for the series' elaborate (and really freaking bizarre) musical numbers.  That said, the most memorable musical pieces aren't the fully-realized visual numbers, but rather the "crimps" — a sort of half-rap, half-scat stream-of-consciousness vocal jam that sounds off-the-cuff but couldn't possibly be.
I think, when people complain about not understanding British comedy, this is the kind of thing they're talking about.  Not everyone is going to like "The Mighty Boosh," mainly those who just can't get behind weird for weirdness's sake.  The humor isn't dumb by any stretch of the imagination, but it takes a willingness to laugh at absolute nonsense to enjoy it.  If you're a fan of, say, "The IT Crowd," you're pretty well prepped for it (in no small part because there's a lot of cross-pollination between the shows' casts).
I'll do you a favor and say if you can't do surreal comedy, step as far around it as possible because it'll make you miserable.  But if you like that sort of thing and need something fresh, you will likely adore the hell out of it without needing to invoke the Three-Episode Rule.
"The Mighty Boosh" is available in a special-edition DVD box set. Anyone who can comment with the entirety of the bouncy castle crimp won't get a damn thing, but it sure would be cool.