Comic Non-Sans: "Spinning to Infinity" and the ultimate free-form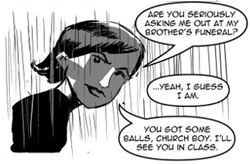 Trisha sends me a lot of links and I'm really terrible about looking at them for two reasons.  One,  as I mentioned last week, I feel funny about talking up a webcomic that hasn't been around long; and two, I never follow that up because my short term memory is so bad someone could get a grant for writing about it.  But as I was flipping through, the first page of Spinning to Infinity grabbed me immediately — probably because it had minotaurs and there's not enough properly mythological stuff out there webcomic-wise.
So, intrigued, I went on to the next page … and found that it was now about classic horror movie monsters.
The point of "Spinning to Infinity," you see, is that it's never actually the same comic from one day to the next.  Rather, it's an ever-changing series of one-shots in different genres — teen romance, space girls, zombies — drawn by a variety of talented artists in all areas of comickry.  Each page is a quick-and-dirty (occasionally literally) stand-alone story, about the size of a Sunday newspaper comic.
The writer, DC and Image's Steve Horton, writes not so much to specifications as to comfort levels.  The left-hand mini-rant on each page notes that artists either told him what they'd feel comfortable with drawing or what they'd just really rather like to do.  The final result, regardless of genre or topic, is always at least a little tweaked — usually more than a little — though whether the ending is comic, dramatic, or disturbing is just as up for grabs as the rest of the comic.
One of the things I really like most about this is the cross-section of the artistic "population" recruited for the project.  Listed as participants are Eisner award winners, webcomickers, pinup artists, and some "talented newcomers."  The result is an eclectic mix of art styles that always seems to suit the mini-storyline given.
Updates are Monday and Wednesday, with a "behind-the-scenes" page every Friday.  And unlike many other webcomics out there, this has pretty much a built-in assurance that it will never get "stale" or boring.  I'm looking forward to seeing where this goes, and what the writer and artists can do for each other in this massive collaboration.