Comic Non-Sans: "Ratfist"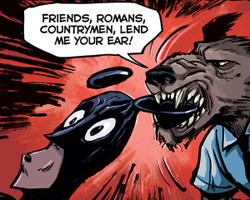 Hands up, who here grew up with Earthworm Jim? I remember when the cartoon was part of the Kids' WB lineup, just after "Freakazoid!" every Saturday.  And that itself was based on a game of the same title for the Sega Genesis.  Remember the Sega Genesis?  Hell, remember when Sega still made gaming systems?
Right, stepping away from the nostalgia bomb …
Basically what I'm getting at is that whether or not you follow print comics or short films terribly closely, if you lived through the 90s you are familiar with Doug TenNapel, even if not by name.  Sadly, as I did not actually have cable 'til I went to college, I missed a few of his other projects so I can't really speak for those, but his is one of those styles you can see from a mile away.  And if you've ever been a fan of quirky superhero/action stories, you know what he can do … and thus, you'll want to hear about what he's been up to.
Quick version, I will take verbatim from the friend who alerted me to it: "Dude, the 'Earthworm Jim' guy is doing a webcomic now."
Said new webcomic is Ratfist, which initially sounds like a horrible thing solely because I'm twelve years old and laugh at anything that has the word "fist" in it.  On closer inspection, it actually refers to the title character, Ricky: a dude in a rat suit who appears to have pretty much no super powers.  But he does have a pet rat named Milt and a girlfriend who doesn't actually like rats.
Now, normally it's against my religion to mention a webcomic relatively early in its run, but that's mainly because of the typical worry of unreliability.  I think we're a bit all right here, to be honest.  With regular weekday updates — all of them in full color and very lovely — it looks incredibly promising.  Especially given some of the oddball character designs we've seen so far, and I don't just mean Ricky's evening wear.
Given the fact that the site design is slick and simple and not maniacally ad-supported, this looks like one that's being done (if I may quote today's youth) "just for the lulz."  And I love seeing established artists/writers from other media throwing their hat into the ring, not necessarily as a way of lending "validity" to the medium, but just to feel like one is in good company and a part of something that's been building to this point of wide appeal.
I will be looking forward to even more Ratfisting in the future.
Heh.