Henry Cavill to play The Man of Steel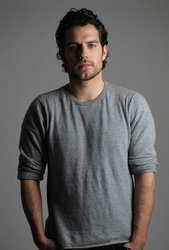 We have our Superman.
According to a press release from WB posted at Coming Soon, Henry Cavill, a relative unknown, will be donning the cape and tights for the Zack Snyder-directed/Christopher Nolan-produced Man of Steel.
From Snyder:
In the pantheon of superheroes, Superman is the most recognized and revered character of all time, and I am honored to be a part of his return to the big screen. I also join Warner Bros., Legendary and the producers in saying how excited we are about the casting of Henry. He is the perfect choice to don the cape and S shield.
Cavill is perhaps best known for his work on The Tudors and has to this point had relatively minor roles in films, including Stardust and Tristan + Isolde. However, he has just wrapped upcoming movie The Cold Light of Day, starring with Bruce Willis, and will be seen as Theseus in the upcoming Immortals.
The Man of Steel is aiming for a December 2012 release.