Blightyvision: "Whistle and I'll Come to You"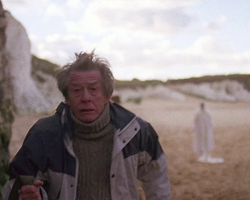 Directed by Andy DeEmmony
Written by Neil Cross
Based on the short story "Oh, Whistle, And I'll Come To You, My Lad" by M.R. James
Starring John Hurt and Gemma Jones
I love a good ghost story.  A good psychological one, I mean.  I have never been a fan of the jump-and-scare adrenaline-fests that people seem to like so much — nor of the gross-out flicks that are just as popular.  I'd rather be given nightmares and have to think about things later.  So when one of my "sources" informed me that I needed to see the newest adaptation of "Whistle and I'll Come to You" provided I probably not do so right before bed, I was pretty psyched.
The original story was written in 1904 by M.R. James, an archaeologist and scholar who wrote ghost stories on the side.  It dealt with a dry old academic faced with something he can't logic away when he is stalked by a mysterious entity at a beach-side hotel.  Writer/director Jonathan Miller wrote an adaptation for the BBC Omnibus series in 1968, starring Michael Hordern (who would go on to play Wodehouse's Jeeves a few years later) as Professor Parkin.  In this adaptation, Parkin is played as unsympathetic and pretty damned annoying, and while the short is suitably surreal and creepy, you feel little to no sympathy for the character.
The new version, written by Neil Cross (creator of "Luther" and "Spooks"), expands on the character and adds a variety of new elements.  John Hurt's Parkin is equally logical and intellectually-driven without being remotely as irritating, and is — if not properly sympathetic — at the very least pitiable.
In this adaptation, Parkin gives a reason for his outing: he is taking time away for himself after leaving his senile (to the point of being unresponsive) wife in a care home.  While out for a walk on the beach, he digs up a discarded ring engraved with the words "Quis est iste qui venit" — I'll leave that a mystery for viewers, at least unless you know Latin.  As the story goes on, he is haunted by both a distant white figure on the beach and the sounds of someone attempting to break into his room at night in the otherwise empty hotel.
The 2010 version succeeds both on its own merits and as compared to the '68 version.  Cross's version does make some drastic changes — most notable being that in the older version Parkin digs up a whistle (hence the title) and blowing it appears to be what summons the entity haunting him.  But central to this version is still James's main theme, being the consequences of valuing logic to the point of dismissing anything inexplicable at one's own peril.
Hurt as Parkin has a great deal more depth to him.  The original was practically set up to be a victim: he was annoying, closed-minded, unlikable, and babbled to himself so much that he annoyed even the minor characters.  Here, though, we are given reason for his denial of the supernatural in the form of his all-but-dead beloved wife.  A central conversation from the original takes on a far more intimate tone here, as Parkin explains his disbelief in a soul not through some roundabout scholarly talk, but through personal experience and grief.
Funnily enough, the modern version does not make use of any sort of visual effects.  Everything is atmospheric: sounds, distant figures, and a particularly creepy bust that serves absolutely no purpose but to look particularly creepy.  Hurt carries the majority of the show on his own, with Cross exhibiting no fear of leaving his protagonist wordless for long stretches.
This is a proper scary piece — a good old-fashioned ghost story executed very well indeed.  The fact that it aired on Christmas Eve means it went missed, or at least unreviewed, by quite a few (you're either going to consider this absolutely wrong or absolutely right for Christmas Eve viewing, really).  If you like being freaked out but really need your scary story to actually have a good plot, this is just what you need.
"Whistle and I'll Come to You" is not suitable for those with weak hearts, fear of ghosts, fear of the dark, and SERIOUSLY GUYS WHAT IS UP WITH THE BUST.