The Envelope Please…: Lyssa's Thoughts on the Oscar Nominations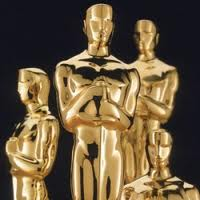 Yesterday morning, the Academy of Motion Picture Arts and Sciences announced their annual nominees for the best in movies over the past year. Having seen the majority of the films nominated in the major categories, and, as anyone knows me would expect, I have a lot to say.
This year's surprises weren't about what was nominated, but about what wasn't nominated. While most of the major categories went according to the script written for them by prior awards' nomination lists, there were two glaring omissions among the Oscar Nominees: Christopher Nolan was not among the Best Director nominees (more on that below) and Waiting for "Superman" was left off the final list for Best Documentary Feature.
I should note that, among the films nominated in the major categories (Picture, Director, Acting, Writing), I have yet to see The Kids Are All Right, Buitiful, Animal Kingdom, and Another Year. I do plan on seeing them all before Oscar night, so my preferences may change. 
See below for a complete list of nominees and my thoughts on some of the categories.
Best Picture
Black Swan
The Fighter
Inception
The Kids Are All Right
The King's Speech
127 Hours
The Social Network
Toy Story 3
True Grit
Winter's Bone
I honestly don't have any real issues with this crop of nominees. Do I wish there were room for The Town on this list? Absolutely. But given that my pick for best film of any given year is more likely to not even be nominated for Best Picture, I'm thrilled to see so many films I loved on this list, including what I thought was the year's best: Inception. I still have to agree with the pundits who believe it's a two horse race between The King's Speech and The Social Network. If those are my choices, my money is on The King's Speech, primarily because I felt it was the stronger film, but also because it has more nominations (12 to 8).
Best Director
Darren Aronofsky – Black Swan
David O. Russell – The Fighter
Tom Hooper – The King's Speech
David Fincher – The Social Network
Joel Coen and Ethan Coen – True Grit
Having already admitted that I consider Inception the best film of last year, this category contains what I find to be the biggest snub of the year. I just don't understand how the director's branch of the Academy was able to overlook Christopher Nolan. I found out about this oversight before I saw the full list of nominees yesterday morning, and it angered me more than any other snub or undeserved upset in recent memory. It makes me wonder what Mr. Nolan has to do to get Oscar's attention in this category, as it's clear from Inception's eight nominations that the other branches hold him in higher regard.
Best Actor
Javier Bardem – Buitiful
Jeff Bridges – True Grit
Jesse Eisenberg – The Social Network
Colin Firth – The King's Speech
James Franco – 127 Hours
Colin Firth has been my pick for this award since I saw The King's Speech back in November, and nothing I've seen since has swayed my opinion.
Best Acrtress
Annette Bening – The Kids Are All Right
Nicole Kidman – Rabbit Hole
Jennifer Lawrence – Winter's Bone
Natalie Portman – Black Swan
Michelle Williams – Blue Valentine
Natalie Portman gave one of the most riveting performances of the year. It seems whenever Darren Aronofsky has a film with a strong female lead, he's able to find an actress who knocks it out of the park. I almost wish Noomi Rapace had been nominated for her equally riveting turn as Lisbeth Salander in The Girl With The Dragon Tattoo, but every woman on this list gave stellar performances and deserves to be here.
Best Supporting Actor
Christian Bale – The Fighter
John Hawkes – Winter's Bone
Jeremy Renner – The Town
Mark Ruffalo – The Kids Are All Right
Geoffrey Rush – The King's Speech
I've lamented for ten years that Christian Bale didn't at least have Academy Award Nominee before his name in movie adds. That is now a thing of the past. And he seems the favorite to win, too. Lord knows he's my pick for the award. My only real question is: Why this part? Why now? The man has been giving excellent performances for 25 years. I'm not saying the accolades for this film are unwarranted – they are absolutely deserved – I'm just wondering what took Oscar so long to notice. One other thought in this category: I'm absolutely delighted at the nomination of John Hawkes for Winter's Bone. He gives the kind of nuanced, understated performance that all too often goes unrecognized.
Best Supporting Actress
Amy Adams – The Fighter
Helena Bonham Carter – The King's Speech
Melissa Leo – The Fighter
Hailee Steinfeld – True Grit
Jacki Weaver – Animal Kingdom
Melissa Leo appears to be the favorite in this category, and I have to admit, she's my personal pick. She captured the tunnel vision of an enabling mother of an addict perfectly. My only real issue with this category is Hailee Steinfeld. She gives a fantastic performance in True Grit, but that film is her story, which, in my opinion, makes her a lead.
Best Adapted Screenplay
Danny Boyle & Simon Beaufoy – 127 Hours
Aaron Sorkin – The Social Network 
Michael Arndt (Story by John Lasseter, Andrew Stanton and Lee Unkrich) – Toy Story 3
Joel Coen & Ethan Coen – True Grit
Debra Granik & Anne Rosellini – Winter's Bone
Best Original Screenplay
Mike Leigh – Another Year
Scott Silver and Paul Tamasy & Eric Johnson (Storry by Keith Dorrington & Paul Tamasy & Eric Johnson) – The Fighter
Christopher Nolan – Inception
Lisa Cholodenko & Stuart Blumberg – The Kids Are All Right
David Seidler – The King's Speech
Best Animated Feature
How to Train Your Dragon
The Illusionist
Toy Story 3
This is the one category where I absolutely don't care who wins as each film is fantastic in different ways, and all of them are deserving of a trophy. I still think it's Toy Story 3's award to lose, but I will be happy regardless of the result. One other note: As much as I love Despicable Me, I'm thrilled that The Illusionist got what was considered to be the only open slot on this list. It's a bit under the radar, but it's still brilliant, and my hope is this nomination will raise film-goers' awareness and get some of them to seek it out, even if it is on DVD later.
Best Art Direction
Alice in Wonderland
Harry Potter and the Deathly Hallows Part 1
Inception
The King's Speech
True Grit
Best Cinematography
Matthew Libatique – Black Swan
Wally Pfister – Inception
Danny Cohen – The King's Speech
Jeff Cronenweth – The Social Network
Roger Deakins – True Grit
Best Costume Design
Colleen Atwood – Alice in Wonderland
Antonella Cannarozzi – I Am Love
Jenny Beavan – The King's Speech
Sandy Powell – The Tempest
Mary Zophres – True Grit
Best Documentary – Feature
Exit through the Gift Shop
Gasland
Inside Job
Restrepo
Waste Land
Best Documentary – Short Subject
Killing in the Name
Poster Girl
Strangers No More
Sun Come Up
The Warriors of Qiugang
Best Editing
Andrew Weisblum – Black Swan 
Pamela Martin – The Fighter
Tariq Anwar – The King's Speech 
Jon Harris – 127 Hours
Angus Wall and Kirk Baxter – The Social Network 
Best Foreign Language Film
Biutiful (Mexico)
Dogtooth (Greece)
In a Better World (Denmark)
Incendies (Canada)
Outside the Law (Hors-la-loi) (Algeria)
Best Makeup
Barney's Version
The Way Back
The Wolfman
Best Original Score
John Powell – How to Train Your Dragon 
Hans Zimmer – Inception
Alexandre Desplat – The King's Speech
A.R. Rahman – 127 Hours
Trent Reznor and Atticus Ross – The Social Network
Best Original Song
Coming Home from Country Strong Music and Lyric by Tom Douglas, Troy Verges and Hillary Lindsey
I See the Light from Tangled Music by Alan Menken Lyric by Glenn Slater
If I Rise from 127 Hours Music by A.R. Rahman Lyric by Dido and Rollo Armstrong
We Belong Together from Toy Story 3 Music and Lyric by Randy Newman
Best Animated Short Film
Day & Night
The Gruffalo
Let's Pollute
The Lost Thing
Madagascar, carnet de voyage (Madagascar, a Journey Diary)
Best Live Action Short Film
The Confession
The Crush
God of Love
Na Wewe
Wish 143
Best Sound Editing
Inception
Toy Story 3
Tron: Legacy
True Grit
Unstoppable
Best Sound Mixing
Inception
The King's Speech
Salt
The Social Network
True Grit
Best Visual Effects
Alice in Wonderland
Harry Potter and the Deathly Hallows Part 1
Hereafter
Inception
Iron Man 2