Blightyvision: "Penn and Teller: Fool Us"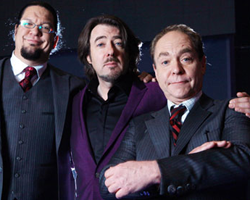 Starring and judged by Penn Jillette and Teller
Hosted by Jonathan Ross
Produced by Andrew Golder, Peter Davey, and Peter Golden
I recently had a good-natured (at least I hope it was good-natured) argument with a British friend of mine over who had made the most detrimental contribution to television.  We finally agreed that the UK, with their reality shows and competitions, had done it.  I hate 'em.  I hate 'em in every variety.  I hate the judges, I hate the levels of fame arising from them … you get the idea.
On the other hand, I love Penn and Teller, and I love their social mythbusting on "Bullshit!" with so few exceptions that you could count them on the fingers of one carnie's hand.  So I had no trouble with tuning in when I heard they were doing a one-shot magic talent competition, especially when I found out why.
The point of the show, according to Penn, was for their own sake, and not to mess with or embarrass the competitors.  Rather, after so many years in the industry, they wanted someone to be able to step up and present them with something that brought back the mystery and surprise of magic.  Anyone who could present them with a trick they could not figure out would be flown out to Las Vegas to open for Penn and Teller onstage.
Hosted by Wossy, "Fool Us" most definitely followed the tried-and-true (for better or worse) competition format.  There was a level of familiarity there.  The main difference, though, was that you knew from the start that the judges knew exactly what they were doing.  There was no ego-stroking to be done here, and no level of subjectivity: they either figured the trick out or they didn't.
The show began and ended with illusions by the pair themselves.  If you've seen them to any extent before, you may well have seen said illusions, but they're impressive nonetheless, with the last one subverting their own trend of showing how many of their tricks are done.  Rather nastily.  (Yeah, I'll mention that if you're not keen on simulated gore, skip the last trick.  If, like me, you don't care, it's pretty awesome.)
No slouches on this particular show, either.  All the acts they brought up were impressive, and not all of them were David Copperfield wannabes.  There was a nice spread of sleight-of-hand, card tricks, "spectacle," and even the oldest trick in the book — literally.  And the great thing about P&T, as opposed to other TV judges?  They were impressed.  Genuinely so.  There wasn't a single act they panned, and coming from a pair known for being blatantly honest, that's pretty high praise.  They were right where they wanted to be.
It's hard to decide what was more interesting to me, though … the tricks themselves, or P&T's observation thereof.  For close-up tricks, they each took a hand and stared. For stage illusions, they were armed with pencil and paper to sketch diagrams of how they thought things were done.  And the kindest part is they never actually divulged anything — or if they had to, they used obscure language.
Did anyone fool them?  Definitely.  I won't say who or how many, but they were both thrilled at being stumped and annoyed at the sort of trick that stumped them.
I wish to God there was some way to make this a series, but between finding that many talented magicians (a far tougher job than digging out singers) and flying any winners to America, it's understandable that this would be a one-shot.  If you're a Penn and Teller fan, you can't afford to miss this.  If you're a Jonathan Ross fan … well, he's in it.  If you love reality competitions, you'll enjoy it.  If you hate them, you'll really enjoy it.
"Penn and Teller: Fool Us" likely won't ever show over here even though the two title personalities are Americans, because that's just how things are.