Noomi Rapace starring in Ridley Scott's Alien Prequel (?) Prometheus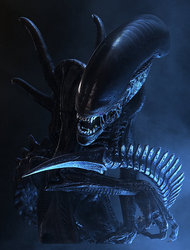 In one of the most confusing press releases in recent memory, Deadline reports that Ridley Scott's Prometheus is on track to be released March 9, 2012.
Confusing because it's unclear if this now has anything to do with Alien now at all. Originally slated to be a prequel to the classic film, it's now being reported that the Alien film was only "a jumping off point" and that this is potentially a new and unique storyline which simply shares a universe with the films in that series.
According to Scott:
The keen fan will recognize strands of Alien's DNA, so to speak, but the ideas tackled in this film are unique, large and provocative. I couldn't be more pleased to have found the singular tale I'd been searching for, and finally return to this genre that's so close to my heart.
While we have to wait over a year to queue up for this one, Noomi Rapace (The Girl with the Dragon Tattoo, Sherlock Holmes 2) has signed on to star in a scientist role, and both Charlize Theron and Angelina Jolie are considering a role.