Blightyvision: "Island at War"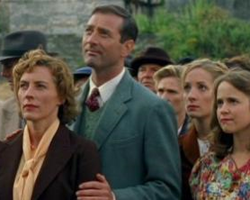 Directed by Peter Lydon and Thaddeus O'Sullivan
Written by Stephen Mallatratt
Starring Saskia Reeves, Philip Glenister, and Owen Teale
I will admit to holding off as long as possible on reviewing this, simply because there are so many -World War II-related series out there and I'm doing my best not to bunch them together.  This is partly for obvious thematic reasons, and partly because it's something UK television does so well that I don't want to risk a lot of overly-positive-sounding reviews too terribly close together.
That being said, this is yet another show that risks being highly targeted to costume drama lovers and historical fiction buffs alone. So if you find stories centering almost exclusively on the ravages of war, you might wanna step down and wait 'til next week when I'll invariably be reviewing a documentary about people who wanted Victorians to stop drinking.
The events of "Island at War" relate the events of the German occupation of the Channel Islands, compiling the stories of Jersey and Guernsey into that of the fictional island of St. Gregory.  The plot follows the interaction of three families of varying social statuses with four of the German soldiers stationed there — for better and for worse.  In particular, we get multiple doses of "forbidden romance" of many levels and a big pile of sympathetic characters to confuse ourselves over.
Starting at the top of the social ladder are the Dorrs, James (played by James Wilby) and Felicity (Clare Holman of "Inspector Morse").  Their story is a messy one, mixing James's role as a senator attempting to make the occupation as painless as possible with his role as a husband and father hanging rather uncomfortably by a thread.  In the midst of this, Felicity is being drawn away by Baron Heinrich von Rheingarten (Glenister, a.k.a. Gene bloody Hunt), alternately endearing and frightening depending on his duties at any given point.
In the middle are the Mahy sisters, Angelique (Joanne Froggatt of "Downton Abbey") and June (Samantha Robinson).  Both are engaged in risky relations with German soldiers: one romantically, one pulling hate and racial slurs simply by association.  Similarly situated is Zelda Kay (Louisa Clen of "Judge John Deed"), a lower-class  German Jew who finds herself involved unwillingly with a rather persistent German soldier.
One thing that was a bit throwing about "Island at War" at first was the show's willingness to depict all nationalities as equally good and bad.  We're close enough historically to the war that the average viewer might be hesitant to admit sympathizing with a German soldier in this context (though the series differentiates rather strongly between soldiers and actual Nazis repeatedly).  Not only are we asked to feel rather genuine sympathy for the occupying soldiers who are denied certain privileges based on the fear of the locals, but we're also shown the "good guys"'s ability to be intolerant of their own people.
The story overall is, more than anything, human.  No one's a hero or a villain, and it's likely a better depiction of the real-life implications of World War II than many others.  "Foyle's War" bordered on this in later series, but here it's a regular and inseparable element.  The war effects everyone equally negatively and can bring out either the best or the worst — or both simultaneously — in people.
My main complaint about the series is that it was too short, and I don't mean in the "I liked it and want more" sense.  The story genuinely felt like it wasn't given enough time — both in regards to what was there and what could have happened afterward.  It felt like a shame to develop such interesting characters and then abandon them as they did.  Yes, plot threads had satisfactory endings, but there were so many more places to go that it didn't feel like "Leave them wanting more" so much as just leaving off in general.
Nonetheless, what's there is excellent if you're into historical dramas, and it's a relatively short watch.  Though as it is more a "human condition" story than anything else, even if war dramas don't necessarily do it for you, give it a look.
"Island at War" is available in its entirety on DVD for your viewing pleasure. And no, I did not pick this up solely because I wanted to see Philip Glenister in uniform and I resent the implication that I did.  Good day, sir.