First Night Flicks: Love and Other Drugs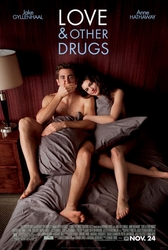 Love and Other Drugs (2010)

Directed by: Edward Zwick
Starring: Jake Gyllenhaal, Anne Hathaway, Oliver Platt, Hank Azaria
Based on the book Hard Sell: The Evolution of a Viagra Salesman by Jaime Reidy
Rated R for strong sexual content, nudity, pervasive language, and some drug material.
A great romantic film can do serious damage to one's perception of love. Where else but in the movies do we so enjoy watching lovers torn apart by circumstance when they are seemingly perfect for one another? Some of the greatest romances of all time are those in which the couple in in love is unable to share a lifetime of happiness together. Yet we watch and yearn to feel what we are seeing on the screen, if only for a moment.
Love and Other Drugs is a good romantic film, not a great one. It hits moments in relationships that many of us have actually experienced, for good and ill, and resonated with quite a few moments in my personal recent romantic history.
Jaime Randall (Gyllenhaal) is the brilliant, underachieving elder son in a family of doctors. When he is forced to vacate his sales job an an electronics store for an on-the-job indiscretion, he must figure out a new line of work. He eventually decides to seek employment with Pfizer as a pharmaceutical representative, which, initially, seems to be a perfect fit for his smooth-talking personality. He is a natural salesman, but he is new to the game.
While shadowing a local doctor (Hank Azaria) in an attempt to get him to prescribe Zoloft instead of Prozac, Jaime meets Maggie Murdock (Hathaway), a beautiful 26 year old woman with early onset Stage 1 Parkinson's Disease. As often happens in films of this nature, after an initial period of hostility and confrontation, Maggie and Jaime fall into a sexual relationship that slowly evolved into something more, despite their own desires.
Along the way, Jaime stops pushing Zoloft and becomes the regional rep for Pfizer's newest drug on the market, Viagra. Since the only thing Jaime excels at more than sales is sex, Viagra is the perfect fit for him, and his star begins to rise within the company. This causes Maggie to worry that she, and her disease, might, in some way, be holding Jaime back from achieving all that he is capable of in his current profession.
At first, I was annoyed that none of the advertising I had seen for the film made mention of Maggie's illness. However, while Parkinson's Disease is a serious condition, I did not feel it's inclusion altered the feel of the film as advertised. It had moments of comedy, romance and drama as all real relationships tend to have. There is a lot of nudity in the film, but it never feels like it's there just for nudity's sake. In fact, I appreciated seeing a sexually active couple on screen who did not hide under the covers after sex.
Gyllenhaal and Hathaway, who, it must be noted, worked together before in Brokeback Mountain, have an easy, comfortable chemistry that makes this film work. It doesn't elevate the material, but it allows it to play out in a way that is relateable and realistic, which is more than I expected.
Love and Other Drugs opened on November 24, 2010 and is still playing in many theaters.