Doctor Who, Sylvester McCoy cast in Hobbit role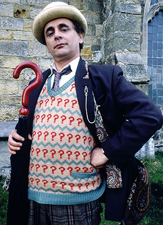 Ah geek concordance. You are the happiest of happenings, and we're always somehow surprised despite the fact that casting someone with a built in fanbase makes a whole lot of sense.
According to an interview at the BBC, Sylvester McCoy has been cast in the upcoming Hobbit films. Unfortunately, at this point, he can't say anything.
"I can't say anything! I don't even know if I've said too much already," he admits. "I've already got my wrist gently tapped. I just want to tell the world about it… I know it's all bubbling away and plans are being made."
According to the folks over at The Playlist, it's likely that McCoy has taken the role of Radagast the Brown. This seems supported by the actor's own admissions.
"When they sent out the character description for the part I'm playing, it says he's between 57 and 75. When it started out I was 57, but it's taken so long to get to fruition I'm now 75!"
McCoy is 67, but you can see his point.