RIP: Leslie Nielsen and Irvin Kerschner
This week was a tough one. We lost two men who I know affected my childhood, and those of other children of the 80s, in a big way.
Actor Leslie Nielsen (Airplane!, Forbidden Planet, The Naked Gun) passed away on Sunday due to complications from pneumonia. He was 84. While Airplane is probably his film that I know the best, I also enjoyed his roles in other films, both good and bad. Most recently, I was shown a gem of a film called Project Kill by a friend. While too awful to actually sit all the way through, if you can track it down the beginning and the (hilarious) end are worth watching.  Godspeed Shirley.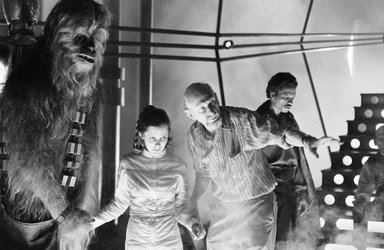 This weekend we also lost a bit of a geek icon. Irvin Kerschner, director of my personal favorite Star Wars film, The Empire Strikes Back, as well as Never Say Never Again and Robocop II passed away at his home in France after suffering from an illness. I can still remember cheering as the Rebels took down the AT-ATs for the first time, being scared by the Mynock in the cave, and falling in love with the glorious badassery that was Boba Fett. This man touched many lives and he will be missed.