Blightyvision: "Stephen Fry in America"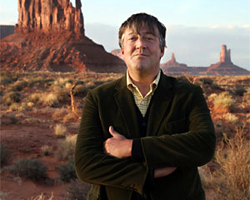 Directed by John-Paul Davidson and Michael Waldman
Created and presented by Stephen Fry
When I visited the UK in December 2007, I found myself spending an unplanned night at the Radisson Blu connected to Manchester Airport.  Also there were a few local kids getting in on the hotel's rather lenient policy of giving free rooms and food to anyone who claimed to be on my cancelled flight without actually presenting any sort of proof.  On the way up to my room I met up with three of them, who noted my accent with some fascination and asked where specifically I was from.  "Virginia," I said.  One of the boys peered at me and asked, rather innocently, "Is that in New York?"
I've often told friends of mine — and not entirely wrongly, as you can see — that a lot of other countries basically see America as being equal parts New York, Texas, and California.  Possibly with a bit of Florida and Vegas thrown in.  And as much as I love the "Top Gear" boys, they don't do a particularly good job of depicting anything north of Alabama.  Thus — and it's not the first time I've said this — thank God for Stephen Fry.
His 2008 travelogue, "Stephen Fry in America," takes a region-by-region look at our rather sprawling country, starting in New England and finishing up in the non-contiguous two.  His stop-ins range from major theatres to small country homes, his interviewees from celebrities to little old Southern ladies.  And it's not all particularly flattering, but it's certainly all affectionate and fascinated.
Clocking in at six hour-long episodes, Fry sadly doesn't have time to address everything he sees and every place he visits, but he and the producers manage to pick the high points of every area.  As American viewers, though, we may find our definition of "high points" varies from his a fair bit.  We take a great deal of American pride in our big cities and historical landmarks — I myself grew up near Williamsburg and Jamestown, where the history comes from.  And I was surprised initially that my area didn't even get a passing glance.  But then I realized: Britain already knows about that area from a historical viewpoint.  There's nothing new in showing them … and I say this with mild discomfort … where they lost a war.
That's the big thing about this series: the point isn't to "show off" America.  It's to be different, to show people things they won't have seen on the news or read about in history books.  You're not going to find out elsewhere about border patrols or what it's like to be on a military submarine.  And I've yet to see any other citizen of the Crown deliver a toast at a Thanksgiving dinner; Fry's cheerful analysis of a wonderful holiday stemming from a "slight misunderstanding" is one of the best dinner speeches ever committed to film.
One of the things Fry takes a big look at is American innovation.  In the first episode he interviews Jimmy Wales, the creator of Wikipedia, and stops in on Ben and Jerry — the actual Ben and Jerry — to see what the big deal is with their ice cream.  He even creates his own flavor: "Even Stephens," vanilla with toffee, fudge, and walnuts.  (And no, you can't buy it, which makes me incredibly sad.)
Not all of his outings are terribly cheery, though.  In one episode, he learns firsthand what it's like being down a West Virginia mine shaft — including the prayers led before this rather dangerous venture.  Later in the same episode, his trip through Tennessee takes him to the "body farm": an undisclosed location where cadavers are observed while rotting in various outdoor conditions.  He also follows the border patrol on their rounds late in the series.  And — probably most disturbing of all for Fry himself — he's even invited to participate in an evening singalong at one host's home.
Depending on where you call home, "Stephen Fry in America" brings you different things.  For Brits, it's a far more honest and in-depth look at a country that, to be honest, not many have a good view of.  And for Americans, it's an interesting look at what one rather well-educated man considers to be the angle on the States that his countrymen most need to see.  That, as well as the fact that Americans themselves might not even be aware of many of the places and people he visits, makes it one of the better ways to spend six hours of your time no matter where you're from.
"Stephen Fry in America" is now available on R1 DVD, as is the hardcover companion book.  Which is, I fear, Region 2, so you can only read it if your eyes are region-hacked.