Eddie Izzard to play Long John Silver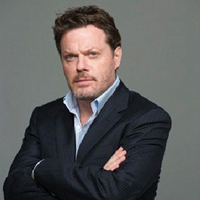 In a rare TV drama appearance, comedian and executive transvestite Eddie Izzard has signed on to play Long John Silver in Sky1's new adaptation of Treasure Island. Set to air in December 2012, this marks the first live-action adaptation of the novel for British television since the 1977 production featuring Alfred Burke.
The drama, which began filming this month in Ireland and Puerto Rico, is being written by Stewart Harcourt (who has adapted several Agatha Christie mysteries for television) and directed by Steven Barron, the man behind "Merlin."  It'll be clocking in at four hours spread across two parts, and Sky1 head of drama Elaine Pyke is promising us "a hugely exciting, morally complex and compelling story of pirates, heroes, friendship and treachery."
Today it was also announced that "Ashes to Ashes" star Philip Glenister will be appearing in the drama as Captain Alexander Smollett, and more cast will likely be revealed as filming continues (currently in Cork and Dublin).  Honestly, all this blogger wants to see at the moment is a face-off between Izzard's Long John Silver and Jack Sparrow — though that might well be too much piratical camp for one room.