First Night Flicks: Made in Dagenham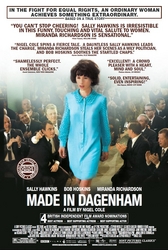 Made in Dagenham (2010)

Directed By: Nigel Cole
Starring: Sally Hawkins, Bob Hoskins, Miranda Richardson, Geraldine James
Rated R for language and brief sexuality.
In 1968, the sewing machinists of the Ford Motor Company factory in Dagenham went on strike when they were classified as unskilled laborers to justify paying them a meager salary. Of course, this claim was proven untrue once the seat covers that these women produced ran out and none of the men were able to do the job, thus closing down Ford's main factory in the UK as well as the main employer in the town of Dagengham. What began as a claim for fair rating and pay based on their skill level quickly turned into a fight for equal pay. It's a fight that is still being fought by women all over the world.
A dramatization of actual events, Made in Dagenham focuses on Rita O'Grady (Hawkins), a wife, mother and machinist whose husband (Daniel Mays) also works for Ford. Rita is respected among her colleagues and is chosen by sympathetic union representative Albert (Hoskins) to join him, the union local, Monty (Kenneth Cranham), and the shop steward (James) at a meeting with Ford's Head of Industrial Relations, Peter Hopkins (Rupert Graves). Albert's initial strategy is to have one more person at the table than the other side.
The women are advised by Monty to just smile and nod and let him do all the talking. However, in the meeting, Rita surprises everyone by not only having something to say, but by saying it well, saying it forcefully, and not backing down. It's an interesting contrast to an earlier exchange with her son's teacher (Andrew Lincoln) in which she was dressed down for her social status and could not find her voice to defend herself or her son. Rita not only finds she has a voice, she also has the type of leadership and organization skills that inspire a nation of women, including Mr. Hopkins' Cambridge-educated wife (Rosamund Pike), while also attracting the attention of the new Secretary of State for Employment and Productivity, Barbara Castle (Richardson).
This is an actor's film. That is not to say that it is only worth watching for the performances, as it is, in every aspect, a superbly made film, but there is not a performance or moment out of place in this film. Each of the primary cast is given at least one great moment on screen. Bob Hoskins is especially moving while explaining to Rita why he believes strongly in the women's fight for equal pay. Miranda Richardson has a brief speech where she takes her two under secretaries to task that is one of the best moments in the film.
The true standout among this brilliant cast is, of course, Sally Hawkins, who should find herself nominated for Best Actress across the board this season. She not only has to carry the film, but she has to have the audience firmly on her side, even when it appears she's putting her cause over her own family.
Made in Dagenham is already accumulating well-deserved accolades from the festival circuit and the British Independent Film Awards. I would be shocked if this fantastic little film didn't also find itself on the U.S. Academy's nomination list.

On November 17, 2010, the United States Senate failed to pass the Paycheck Fairness Act by two votes. Made in Dagenham, while set in the 1960's could not be more timely.
Posted on November 18, 2010 at 10:11 by
Lyssa Spero
·
Permalink
In:
Movies
,
Reviews
· Tagged with:
based on a true story
,
Bob Hoskins
,
dramatization
,
Ford
,
Miranda Richardson
,
movie review
,
new movie
,
Rosamund Pike
,
Sally Hawkins