First Night Flicks: The Girl Who Kicked The Hornet's Nest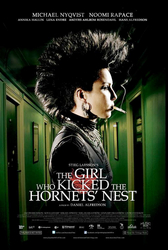 The Girl Who Kicked the Hornet's Nest (2010)
Luftslottet som sprängdes (The Air Castle that was Blown up)

Directed by: Daniel Alfredson
Starring: Michael Nyqvist, Noomi Rapace, Lena Endre, Annika Hallin
Based on the Novel: The Girl Who Kicked the Hornet's Nest by Stieg Larsson
Rated: R for strong violence, some sexual material, and brief language.
I have never been a huge fan of watching films in a series out of order, especially when I have never seen any of them in the past. I'm particularly not fond of watching the last installment of a trilogy that I am unfamiliar with, as I worry that, knowing how the story ends, I won't want to bother to see what happened in the prior films. So, it was with trepidation that I attended a screening of The Girl Who Kicked the Hornet's Nest to review it for this site; having not seen either of the preceding films. I was pleasantly surprised and thoroughly engaged.
The Girl Who Kicked the Hornet's Nest is both a legal drama and a political intrigue. Lisbeth Salander (Rapace) is in a Stockholm hospital recovering from a gunshot wound to the head after her father (Georgi Staykov) and half brother (Micke Spreitz) attempted to kill her at the end of the last film, and she is still wanted for multiple murders. Meanwhile, the journalist Mikael Blomkvist (Nyqvist), is preparing an issue of his magazine Millennium, which exposes how Salander was abused and exploited by a governmental conspiracy to protect a Soviet defector, in an attempt to help her case and restore her legal standing.
Salander is also aided by her sympathetic doctor (Aksel Morisse), who valiantly keeps the police and Dr. Peter Teleborian (Anders Ahlbom) at bay while she recuperates, fellow hacker Plague (Tomas Köhler) and Blomkvist's sister Annika (Hallin), who agrees to act as Salander's defense attorney. On the other side of the coin is the Swedish prosecutor (Niklas Hjulström) who is interested only in obtaining a conviction, not in overseeing justice. He works in collaboration with Dr. Teleborian , to ensure that Salander, when convicted, is sentenced to a lifetime confinement to a mental institution. It's worth noting that during a previous confinement during her teenage years, Dr. Teleborian was in charge of her care.
The plot also includes confidential documents, closed-door meetings in secured government locations, international espionage, elderly hitmen, threats against the investigate journalists trying to expose the truth, and a governmental investigation into a covert branch of their own government. To expose the players and their purposes, though, would be to lessen the impact and entertainment value of the film. It's best left to unfold in front of the audience in its own time.
Rapace is eerily captivating as the central character. She goes through long stretches on screen where her dialogue is extremely limited, but she speaks volumes. Even the simple task of sending a text message is enthralling in Rapace's hands. This is vitally important here as Lisbeth Salander, while a sympathetic character because of things that have been done to her, is never presented as an especially warm and inviting woman. She is not looking for a savior, and she will not be cowed. There is a moment in the later part of the film where another character is speaking, but the director chooses to focus instead on Rapace's face as a slight smirk begins to grace her lips. It is a wise decision, and it's an electric moment because of everything that Rapace puts into that one simple expression.
Since seeing this film, I've gone and watched the preceding two films in the series, and that, I believe, is the greatest compliment I can give it.
It must be noted that The Girl Who Kicked the Hornet's Nest, like the other two films in the trilogy, deal with some disturbing and potentially trigger-inducing material. If you have any kind of abusive past, please watch with caution.