Blightyvision: "Henry 8.0"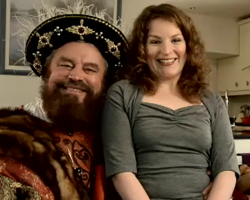 Written by Mark Davison and Glen Long
Directed by Matt Holt
Starring Brian Blessed and Catherine Skinner
I believe quite firmly in praising people when they do something good, in hopes that they will keep doing said good thing.  One thing the Beeb is learning, slowly but surely, is that it's not particularly clever or lucrative for them to block their content on a regional basis if there's not some sort of international distribution deal already in place.  To that end, they've made it possible — and easy — to see some of their internet-exclusive content even if you don't (and can't) pay their licensing fee.  And hell, on top of that, they're giving us properly good stuff …
… which, sadly, they then don't go out of their way to push, meaning I heard about this through a second party asking if I needed anything to review.  I'm not sure whom to blame for my being a year late to the party, because "Henry 8.0" seems, at least internationally, to not have gotten the attention it warrants.
The concept is simple and fluffy: a loud-mouthed, borderline infantile husband stays glued to his internets while making life extremely difficult for his young wife.  Not particularly inventive, until you take into account that said husband is King Henry VIII, played by giant noisy badger-man Brian Blessed in full Tudor garb.  The episodes run anywhere from two to five minutes in length and are non-linear to the point that you can grab whichever you please at random.  There's no particular plot to speak of — just little bites of sketch comedy, with the viewer "sitting" just behind Henry's computer screen as he starts Facebook Drama with the Pope, mucks about with some sweet beats on iTunes, and "accidentally" downloads sketchy videos.
The original series of "Henry 8.0" ran seven episodes, and was followed this past summer with a sequel series of six episodes entitled "Henry 8.0: A Tudor Holiday."  The second series gets Henry out from behind his computer (in theory) as he and the wife head out for a summer caravaning holiday.  Without his laptop, His Majesty resorts to shenanigans such as claiming ice cream cones in the name of the crown and having a food fight with the French tourists one caravan down.
It's really not difficult to get a good comedic performance out of Brian Blessed when you give him a role like this.  He hams up Henry and plays him as both extremely childish and incredibly perverted (although the two aren't necessarily mutually exclusive).  The writing follows a normal conversational pattern, but doesn't get dull, partly because the writers knew to keep it short, but also in a large part because of the chemistry between Blessed and Catherine Skinner, who plays a sort of modernized Catherine Parr.  Skinner makes a fantastic straight-man, and while she spends the first series back in the kitchen, "A Tudor Holiday" sees her doing a bit more than popping out to the story when Henry decides he wants biscuits.
It looks as though no more episodes will be produced, which is a pity, but this may well be one of those cases where it's best to quit while you're ahead.  At 13 mini-episodes in length, it's a fun work distraction, and very easy to rewatch on a whim.
"Henry 8.0" is available to watch directly from the BBC website or on their YouTube channel. Seriously.  This is quite likely the easiest-to-obtain thing I will ever review on this blog.  I must be slipping — someone go dig some PAL videos out of the back of their closet for me.