Back of the Box: Castle Ravenloft
What do you get when you remove the role playing from D&D 4th edition, and include a nifty exploration mechanic, and set it in one of the coolest settings in all of D&D-dom?
You get  the newest board game from Wizards of the Coast.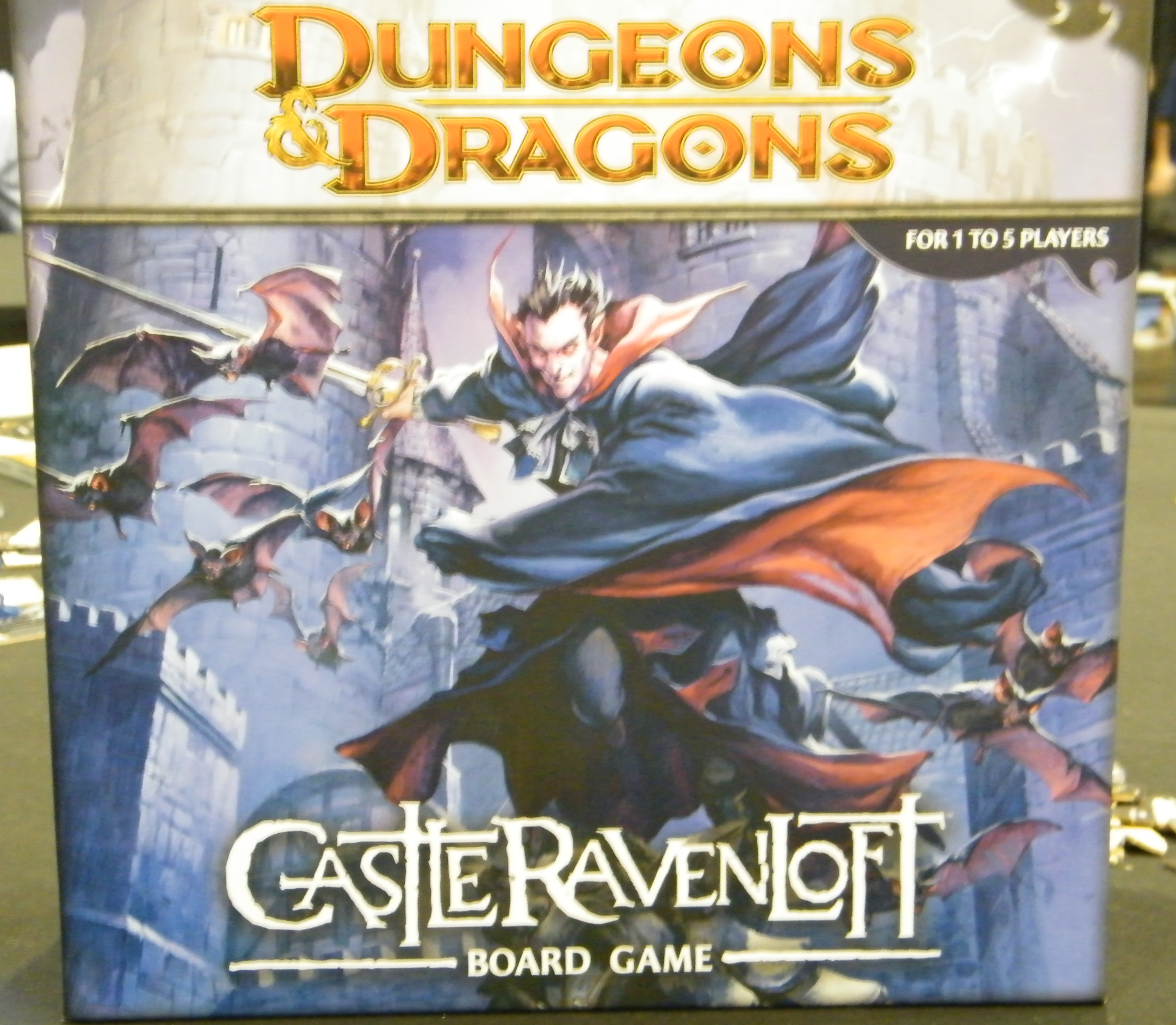 Should You Buy This Game?
Here are some things to keep in mind when deciding if Castle Ravenloft is right for you.
Set up

5 players each pick their pre-generated character card and figure
Place figures on starting tile
Choose who goes first

Play

Players move their figure up to as many boxes as their speed stat
If they can attack a monster, or take any other action, then they do that
If they control any monsters, they take those actions now
If they are on the edge of a tile, they can choose to explore or not
If they choose to explore, a new tile is placed on the edge where they are
If a new tile is placed, a new monster card gets picked, and a new monster appears on that tile
If a new tile is draw, and there is a black arrow on it, a new monster appears and an event card is picked.
If there is an event, it happens.
If the event is particularly bad, the players can decide to void it out by spending experience points
If you do not explore because you are not on an edge, or for strategic reasons (like you don't feel like your party really needs 10 monsters on a board) you take an event card.
Finishing the Game:

Each game comes with a book of adventures, so to speak, with different goals for whatever adventure is picked.
When the goal is completed, you win!
If  everyone dies, and all the healing surges are used, you lose =(

Things to Consider:

How much time do you have? Castle Ravenloft can take up to two hours, or more if you're just learning the mechanics
Do you really want to play a board game? The inherent urge is to use this as a set up for role-playing, though rules for that do not exist (at least in this version)
Do you like 4th edition? This is essentially a dungeon crawl with no characters, using pared down 4th edition mechanics
TL;DR:
Players: 1 – 5
What You Need: Patience
Ease of Play: Medium. It's very confusing at first, but if you've played Arkham Horror or other games like that, you can grasp the concept pretty quickly, and the second time through should be a breeze… or… at least slightly breezier than last time. A lot of it still comes down to the roll of a d20, and if you're bad at rolling, things will get difficult for you.
Speed: Slow to medium. There's a lot of strategy that can go on in this game…on the other hand, some players may not really understand the strategic aspect of the game and just tank their way through. Generally, the more in danger your group is, the slower things will go.
Type of Game: Strategic, co-op, hack n' slash?
Fun Factor: Variable depending on who you are and the type of games you like. Someone who likes D&D will enjoy it, likewise, someone who likes board games. Someone who does not like 4th edition, and someone who expects role playing will be disappointed.
Replay Value: Medium to high. The length of the game, and amount of rules, may keep people from playing it too often, but the different adventures available in the rule book, the different characters you can be (maybe more will be included in an expansion pack?), and all the different event cards make sure that no two experiences will be the same. If you don't want to fight to dracolich, maybe fight the vampire. If you don't want to be the fighter, try the cleric. Oh, hey… this event card says "Instant Death. I didn't know there even was an instant death card."
In the end, what matters most is the type of game you're looking for: This game takes a lot of cooperation between you and your friends. However, if you lack friends, this is possibly the only board I've seen where you can play it by yourself, a feature I kind of like actually. It is long, and can be frustrating. Like Arkham Horror the odds are stacked against you, because this is Ravenloft after all. If you're looking for a game to get your friends interested in D&D this is a great game to do that. I bet your family might even get into it. The nature of its board makes setting up super easy, though cleaning up is a bit of a hassle. Again, I stress, that this is a BOARD GAME and not a Role Playing Game. I stress that because even I made that mistake in my initial reaction. Anyone who has played D&D may feel this is a bit of a shallow experience. People who like to be called The Winner, while everyone else is The Loser will not like this game, as it is not competitive.
After some discussion with Adrienne from This is How I Roll, we thought things that could improve the game, such as events that aren't monster attacks or something that changes the atmosphere of the dungeon (ie: a mist that will increase the difficulty of hitting anything. Bats. Lots of bats… etc…).  At first I agreed with her, and certainly think that cards like that could be included (if they aren't already, I don't own the game, I played it NYCC) if there was an expansion pack that wanted to set up a more role play oriented game than an exploration/board game. After thinking about it again, I realized that events like that don't need to exist in what is primarily a board game, though it could be easily adapted into a 4th edition D&D game with little fuss.  What I would like to see is more variety of tiles, monsters, and character cards. Not that there already isn't a lot of variety on the tiles, but perhaps differently shaped tiles, or a few tiles that were not 75- 100%  evil (maybe a calming blue arrow that means "no monsters and events").
I think this game setup can be very versatile and used as a set up for homebrew games too. It is a bit expensive, at around $70 dollars in stores (at least, that's what I saw it for), though I'm sure a bit of internet hunting will find you a cheaper price,  but for a board game and role playing game enthusiast, the cost can be easily justified.