East Lansing's Geeked Out Weekend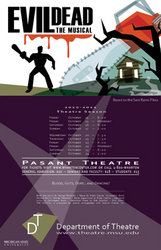 This weekend was a strange one.
I still live in the same town where I attended university. Michigan State is a fairly well-known school and because of this we have a lot of events that happen here. Broadway shows, famous scientists, well-known authors….not always a huge surprise.
This weekend, on the other hand, had two of them.
Friday the 15th at midnight I went to see a student theater production. Among our famous alumni is film director Sam Raimi, and I feel that this had to factor in to our theater department's decision to put on Evil Dead: The Musical. I previously had listened to the soundtrack and had heard tales of the Off-Broadway production's "Splatter Zone". I didn't go in with extremely high expectations, as this was a student performance, and I didn't want them dashed. However, I was pleasantly surprised.
The set design, in our Pasant theater, was well done. The Pasant is almost a theater in the round, with seats on three sides of the stage, and entries from four directions, not including trap doors. All of this was put to use, the cast entering from the aisles, though the deadites crawled from misty passages and out of the trap door. The singing and acting were excellent as well, with the southern accents of some characters from the original play replaced by our homegrown 'yooper' pronunciation.
And while some of the humor goes to the writers of the original script, the cast at MSU was funny as hell. The woman playing Cheryl, doing most of her acting sticking out of a trap door, stole whatever scene she was in. Their timing was excellent, and the physical gags, which usually involved either clothing, continuity, or some bodily fluid, hit perfectly each time. The deadite effects (one of whom was played by my friend Casey) were well done, and an early moment with the pages of the Necronomicon projected on the outspread 'wings' of the lead demon was downright spooky. The special effects are clearly nothing on the actual show, but the cast were well aware of their general crappiness and played the whole thing tongue firmly in cheek. If you're in East Lansing before the 24th of this month take some time and check it out. You can check out show info and buy tickets here.
The other excessively geeky happening this weekend I was unfortunately not a witness to. However, enough of my friends experienced it and the video evidence is there so…well, just watch.
Yeah, that happened.