Stephen Fry to play Mycroft in Sherlock Holmes 2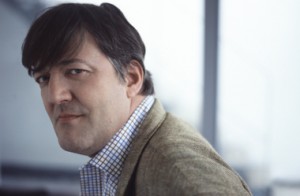 And we have our Mycroft. Hopefully, we'll get a peek into the Diogenes Club as well.
According to Variety, Stephen Fry (Stephen Fry in America, Alice in Wonderland) has signed on to play Sherlock Holmes' older brother in Guy Ritchie's Sherlock Holmes 2. Fry made the announcement during an unrelated talk on BBC radio.
I'm playing Mycroft in the sequel to the Sherlock Holmes film Guy Ritchie directed with Robert Downey Jr., and that sort of part is fun, but just once in a while to play a genuine all round sort of lead figure with complexity and tragedy and wit and all the sort of things that Oscar (Oscar Wilde, 1997) had was a once in a lifetime thrill.
So while it clearly isn't the most exciting part to him in the world, he will likely pull it off admirably. Mycroft, if you're unfamiliar, is Holmes' older, smarter brother who is lazy and spends his time lounging about a secret men's social club, The Diogenes Club. However, if Holmes brings him a problem, he is very often able to shed some light on it.
Sherlock Holmes 2 releases on December 16, 2011.