First Night Flicks: The Town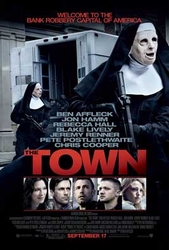 The Town (2010)

Directed By: Ben Affleck
Starring: Ben Affleck, Rebecca Hall, Jon Hamm, Jeremy Renner
Rated R for strong violence, pervasive language, some sexuality and drug use
Call it what you want: resurrection, redemption, or simply a second chance – I'm a complete sucker for any story where that's a general theme. In the earlier part of this century, Ben Affleck was considered box office poison; he couldn't find a hit movie with a map and a driver. After disappearing from the public eye for a few years, he returned triumphantly with an impressive directorial debut in Gone Baby Gone, and he has another winner on his hands with The Town.
Like Gone Baby Gone, The Town is set in Mr. Affleck's beloved Boston. While it's a little early to be comparing them as directors, Boston seems to be for Mr. Affleck what New York is for Martin Scorsese; not merely home but a city that provides inspiration borne out of a deep love for the people and the places and a fascination with the gritty underbelly of those locations.
Doug MacRay (Affleck) is a career thief, living in Charlestown with his best friend, Jim (Renner), Jim's sister, Krista (Blake Lively) and her daughter, which may or may not be Doug's. The son of a notorious thief and murderer (Chris Cooper), Doug is considered the brains behind his four man crew who take jobs from a local crime lord (Pete Postlethwaite) who operates out of his flower shop. In the film's frantic opening, Doug's crew takes down a bank in the early-morning hours and takes the bank manager, Claire (Hall), as a hostage once they realize that someone was able to trip the silent alarm.
The responding FBI agent (Hamm) recognizes that this was the job of a crew that knew what they were doing. Luckily for the audience, Agent Frawley is also capable at his job. While it may be fun escapism, it's much more interesting in these types of films for the cops to be be as smart as the robbers. While Agent Frawley is busy trying to piece together the puzzle of the bank robbery with the limited help of the bank manager, Doug decides to do some surveillance on her when it is discovered that she lives in the neighborhood and begins a romance with her against his better judgment.
While some viewers may choose to see this film as a simple cops and robbers movie with a romantic element, it does raise some interesting questions about nature vs. nurture. What happens when an individual, despite talent and opportunity, is unable to rise above his upbringing? What do you do when you realize the potential consequences for your actions too late to effectively do anything about them? What price are you willing to pay for those actions in retrospect? What if paying that price meant losing everything you thought you cared about and even a few things you didn't realize you cared about? Mind you, these questions aren't necessarily answered; they're raised for the viewer to consider.
Mr. Affleck infects his scenes with the requisite urgency and tension for a cat-and-mouse game between cops and robbers. There is a short scene in a sidewalk cafe between  Doug, Claire and Jim which made my stomach clench as I waited for Claire to recognize Jim as one of her abductors and do the math. In fact, for a portion of the film, I thought Mr. Affleck was going to join Terry Gilliam as the only director to actually make me physically ill using only dramatic tension. In case I wasn't clear, I mean this as a compliment.
As Roger Ebert said in his review of The Prince of Tides, "By directing one good film, you prove that you had a movie inside of you. By directing two, you prove you are a real director…" With this second directorial attempt, Ben Affleck has not only shown that he is a "real director," he's proven that he is on his way to becoming a truly great director. I can't wait to see what he comes up with next.
In the opening scene, The Town includes a blink-and-you'll-miss-it cameo from the officiant of Ben Affleck's wedding to Jennifer Garner. Of course, I recognized Victor Garber immediately (I'm a little obsessed).
Posted on September 18, 2010 at 01:41 by
Lyssa Spero
·
Permalink
In:
Movies
,
Reviews
· Tagged with:
bank robbery
,
Ben Affleck
,
Blake Lively
,
Boston
,
Chris Cooper
,
Jeremy Renner
,
Jon Hamm
,
movie review
,
new movie
,
Pete Postlethwaite
,
Rebecca Hall