Seabiscuit's Gary Ross in talks to direct The Hunger Games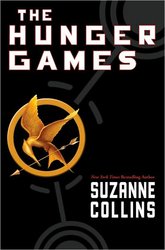 I work at  a bookstore. Now that Twilight is over (thank goodness), the latest, and actually decently written, thing to come down the pipe is The Hunger Games trilogy by Suzanne Collins. The novels, which tell the story of a world where the US has collapsed and a totalitarian society forces children, one male and one female from each of their twelve districts, to fight to the death to prove their power over every aspect of the citizenry's lives, are immensely popular. So, like with any other young adult property, it was only a matter of time before they decided to make a film.
According to an exclusive at Deadline, Gary Ross (Seabiscuit, Pleasantville) is Lionsgate's top choice to helm the film. While many others, including Sam Mendes (Revolutionary Road) and David Slade (The Twilight Saga: Eclipse), were in contention, the studio has reportedly entered into negotiations with Ross.
The hope appears to be that the planned trilogy of films could be a "game-changer" for Lionsgate in much the same way Twilight was for Summit. What's interesting is that the books are extremely violent, with comparisons easily drawn to Battle Royale, The Running Man, and Lord of the Flies.
Filming is to begin in 2011.