Comic Non-Sans: Intervention in Review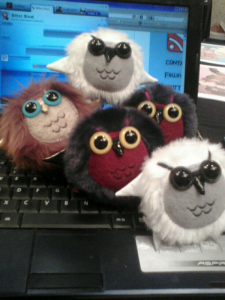 When asked jokingly whose intervention we were going to this weekend, the response from all con chairs past and present was "Onezumi's.  We warned her not to do this."  Though all joking and jabbing and other such loving ridicule aside, I can say that Oni does throw one hell of a party.
The major concept of Intervention was a webcomic convention.  The guest list started out respectable (with the possible exception of Yours Truly tossing in her complete lack of class), then expanded to include big names like Pete Abrams, Mookie, and David Willis.  One hell of an Artists' Alley, and I'm not gonna lie, being in the midst of it was rather daunting.
But one of the great things about said Artists' Alley was that there wasn't very much by way of "central" tables.  Everyone got a fair shot layout-wise, there weren't any really hidden corners, and guests and paying artists were all mixed in together.  As for sales — unfortunately, not everyone there seemed to remember that this was a first-year con, and that it was opposite Small Press Expo.  With those things in mind, it's fair to say that the fact that the con pulled attendees, some level of profit, and press attention really says something for the quality overall.
Though the AA really was the centerpiece of the operation (and yes, I realize how wrong it sounds to talk about spending all of Intervention in AA and to be honest I think that's kind of awesome), there was programming.  And lots of it.  There was a running LARP, a game room, workshops, and three panel rooms' worth of everything from artist Q&As to weird webcomicker stories.
Now, this was also called a "nerd party" on several occasions.  Yes, there was a very different atmosphere throughout the whole weekend, but come Saturday night, the party atmosphere was definitely on.  First up, our old friends at Super Art Fight putting on one hell of an exhibition match.  Just after?  Cosplay Burlesque, which sadly I missed out on because even bloggers need to eat.  But I understand it was fantastic.  After that, Super Art Fight … Unleashed. The concept behind this was that Art Fighters answered questions while Jamie Noguchi drew whatever he wanted.
I'm afraid I can't put up the pictures.  Sorry.
Directly after this, speaking of not being able to report for reasons of good taste, was Guests Uncensored.  Like I said.  Party atmosphere.
(Though on the reportable side of things, there was some great geek rock Sunday morning courtesy of the lovely lady at HELLO, THE FUTURE!  Check her out for webcomic-based filkery.)
As I mentioned before, the one major issue with attendance was Small Press Expo directly opposite.  SPX and Intervention were cutting deals on admission to both cons — as evidenced by the fact that many stoppers and passersby at my table had both badges displayed prominently — but there's only so much one can do.  Even artists were dividing their time between the two cons to maximize sales.  Though I've never been to SPX, I imagine the two are different enough venues that both have things equally interesting to offer, but I understand how hard it can be to divide one's time.
Nonetheless, I think those who were there solely for money did better than they would at most first-year cons; those who were there for connections walked away with more than they would at most cons, period; and those there for crazy fun were not at all disappointed.  From what I can tell, there was enough coverage and interest to warrant another in 2011.  And I will be there.  You'd best be, too.