Natalie Portman given chance to play Gravity lead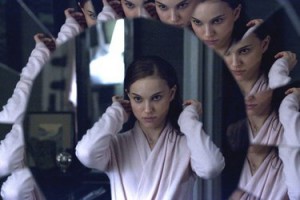 In an exclusive over at the Hollywood Reporter's Risky Business blog, it's reported that Natalie Portman has been offered the lead in the Alfonso Cuaron directed Gravity. The Sci-fi drama role, which Angelina Jolie recently left, has become the next Lisbeth Salander of sought after roles.
The film, written by Cuaron with his brother Jonas, is described as a "Cast Away/127 Hours" type of role, with the actress picked for the lead on screen quite a bit of the time by herself. As the story involves a woman on a space station after debris wipes out the rest of the crew, this isn't surprising. However, Robert Downey Jr. has signed on in some form of supporting role.
Portman could probably carry the film, part of the concern and the reason as to why it's taking so long to cast someone. She is currently receiving rave reviews for her role in Darren Aronofsky's Wrestler companion piece Black Swan which will see release December 1, 2010.