Comic Non-Sans: Interrobang Studios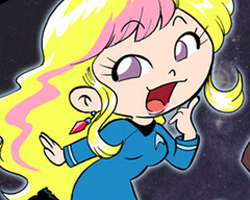 And here we are, wrapping up my month of hard-working webcomickers.  To be honest, I could likely carry this on for an extra month, given how extensive many artists' CVs are becoming.  It's quite possible that we're moving into an era in the webcomicking world now where floating multiple projects is going to become more and more commonplace.  And that's going to put a whole new spin on "quality vs. quantity," though the people I've been covering this month have been managing both admirably.
Now it's time to be an utter suck-up as I go over the final entry in my mini-gallery: Interrobang Studios.
Up until recently, I'd only been familiar with artist Kevin Bolk's autobiographical comic strip I'm My Own Mascot.  Normally I'm not keen on this sort of thing, and I think even knowing the artist as I do wouldn't help me like (or pretend to like) it if it weren't genuinely good — which it is.  The humour is decidedly odd and off-kilter, the cast having expanded to accommodate multiple versions of the artist, including Indie Kevin, Indy Kevin, Nivek Klob, Girl Kevin, Emo Kevin, and Emu Kevin.
From there, I happened to do a bit of clicking around and discovered that he has done far, far more.  The first I happened upon (and as long-running as it is, I'm suitably ashamed for missing it) is The Last Mystical Legend of the Fantastic Fantasy Trigger Star (NSFW), an adventure-fantasy parody focusing on a band of travelers all named after various sorts of food.  This long-running monster of an epic is also a fantastic study in the evolution of Kevin's art.
On the other end of the spectrum lies Spinks, which is a … erm … well, I'm not entirely sure, but it's really cute and has happy little spherical monsters.
The one getting the most attention on fan boards (and the occasional actor on Twitter), though, is Ensign Sue Must Die!, a co-production with writer/artist Clare Moseley.  This comic, now in print in its entirety, does exactly what it says on the tin: the Abrams-era Enterprise has been invaded by the young and lovely Ensign Mary Amethyst Star Enoby Aiko Archer Picard Janeway Sue, whose half-Klingon/half-Japanese/half-Vulcan/half-etc. roots aren't enough to get her in good with the crew, leading them to pool all their efforts into attempts to kill her.
… nope, not done.  Kevin's also been making a name for himself among followers of deviantART with occasional installments of It Sucks to Be Weegie!, Watchbabies, and Wookie-Ookies.  Somehow, I get the feeling that once I'm done with this article, I'll check back again and discover he's done yet more.
"I'm My Own Mascot," "Trigger Star," "Spinks," et al update semi-regularly, with several books already in print.  Check out the Interrobang website to keep up with all the projects at once — or at least attempt to.