The Wibbly-Wobbly Timey-Wimey Watchlist: "The Bill" Finale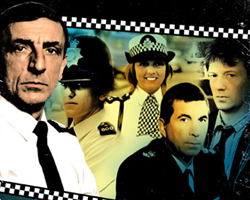 Really, I just don't follow soaps from any country.  I can't be bothered to watch something for several decades and not know if I'll still be alive when it reaches some sort of conclusion.  But I can certainly admit to their importance, especially when it comes to the British variety where mainstream viewers do seem to pay a bit of attention.  My first time hearing about "The Bill" was listening to Al Murray pick on it a year or two ago during an interview, and since then it's been somewhat on my radar — albeit not on my watchlist.
And to be fair, the long-running police procedural drama wasn't initially a soap; it was made up of twelve-episode seasons until it switched to a year-round run in 1988.  Now, 26 years later (making it the UK's longest-running cop show), it's ramping up to a finish, consisting of a two-part series finale and behind-the-scenes documentary.
The latter, called "Farewell The Bill," will take a look at the show's impressively long history, including interviews with ex-cast members Graham Cole and Trudie Goodwin, two of the show's longest-running actors.  It will also follow the cast and crew as they film the series's final two-part episode, titled "Respect."
Last year, "The Bill" attempted an image and directional change, which apparently didn't fare well — viewing numbers tanked not long after, leading to ITV axing the show.   What with Channel 4's plans to fill the 200 hours left open by the nixed "Big Brother" with more UK-based drama, it'll be interesting to see how ITV intends to use their own newfound schedule space.
The final episode of "The Bill" will air August 31 at 9:00 PM on ITV1, followed by "Farewell The Bill" at 10:35.  Be sure to tune in and see the end of the only procedural drama in recent memory not to feature Keeley Hawes.