PSN Tuesday – August 24, Shank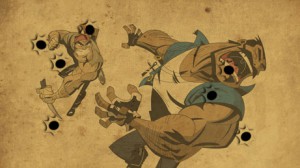 The traditionally slow summer season has been anything but this year, with most weeks bringing forth an excellent downloadable game either on the PS3 or the 360. This week bring the highly anticipated Shank, a 2D sidescrolling brawler from Klei Entertainment. While there are a number of excellent choices in this genre even just in the last month or so, Shank looks to set itself apart from the pack with sharp, stylized graphics and a gritty revenge story that's perfect for vigilantism. The single player mode apparently lasts around 5 hours, but with 10 different costumes to unlock and a separate story with different bosses for local co-op, there's plenty to get your money's worth here. Shank is now available for $14.99, with a demo up on the store if anyone wants to try before dropping the money.
Joining the ranks of downloadable games on the PSN is Motorstorm: 3D Rift, essentially a $10 demo of Motorstorm: Pacific Rift, just with the ability to play in 3D. The game is a bit of a hard sell for those, like me, who don't own a 3D TV, but I'm sure that those with the hardware have plenty to look forward to here. 3D Rift is playable in 2D, but that feels like it defeats the purpose of the game.
In an odd move, another new downloadable game for the PS3 is Press Your Luck, a virtual game show that seems to combine the wheel spinning of Wheel of Fortune with the trivia of Jeopardy. Containing both local and online multiplayer, those looking to test their trivia might can acquire this game for $9.99.
The three new demos on the PS3 are all definitely worth checking out, starting with Shank, which was talked about earlier. Months after the retail release, there is now a demo for MAG, the PS3-exclusive massive online shooter. This calls itself a Beta, though, so it seems like the plan is to test new game content within the trial. The last is a game I'm really looking forward to, Naruto: Ultimate Ninja Storm 2. Following the precedent set by the first PS3 iteration of this long running fighting series, this demo arrives nearly two months before the full retail release. While the target audience is obviously the hardcore Naruto fan, anyone can appreciate the fantastic cel-shaded visuals and fast, fun gameplay.
Finally, this week saw another batch of new discounts for Playstation Plus members. The three free games are 2XTreme, a PS1 classic; Vempires, a Playstation Mini; and Mushroom Wars, a RTS that contains exactly what the name says. The discounts are on the Soldner-X series, both games as a bundle or just the sequel. As someone who enjoys shooters greatly, I definitely recommend checking out at least one of these at some point.
Despite what the early rumors claimed, PSN Plus does not come with a Playstation Protection Plan, the official Sony extended warranty for gaming consoles or PSPs. A big catch to these is that your console has to be within the original one-year warranty in order to take advantage of these service plans. One-Year of additional coverage costs $44.99, and two-years costs $59.99. Plus members can get two-years for the cost of one as a special offer.