Everything I Need to Know I Learned from RiffTrax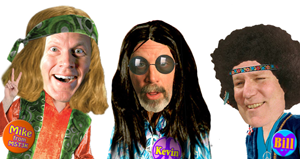 1. Do not wash your clothes in f***ing gasoline.
Having to explain to coworkers where I was going Thursday night was a bit difficult.
"So, what're your plans tonight?"
"Some of us are gonna go see RiffTrax do Reefer Madness."
"What's a RiffTrax?"
"Uh, three guys sit in front of a bad movie and make fun of it."
". . ."
"But they're really good at it."
My first exposure to RiffTrax was by way of trying to cheat my way through Twilight.  I'm a faithful MSTie and have been since I was a tiny Kara, but I hadn't actually caught up to the cast's new work since then.  Their Twilight (and then New Moon) had me in tears, and not in the way I would have been had I not downloaded their "commentary" track.
The basics of RiffTrax: Mike Nelson, Kevin Murphy (Tom Servo), and Bill Corbett (Crow of later seasons) of Mystery Science Theater 3000 have banded together to bring their riffing style to newer movies, as well as older short films and the occasional infamous stinker.  For a more-than-fair price, you can download an mp3 track to play over a DVD of the movie in question — the mp3 starts with instructions on how to queue everything up properly.  This is super-handy when combined with rentals-by-mail or bargain bin digs.  Double-keen is the fact that they've started syncing up track releases with DVD releases, so you can have the boys ready to dig in as soon as you bring the movie home.
2. Corn is grass.  We think.  Probably.  Hell, I don't know and I was there.
Last year, they worked together with Fathom Events to do a live show, simulcast in 500 theatres around the country.  The film of choice?  Plan 9 from Outer Space, plus the short Flying Stewardess and a guest performance by Jonathan Coulton.  I was in attendance (at my local 24-plex, that is), and though our particular venue had satellite issues and our show started as my uncle and aunt's across town was letting out, it was worth the late night.
So needless to say I leaped on tickets to this like a stoner swing kid on a bag of as-yet-uninvented Doritos.  The line-up this time was the legendary Reefer Madness (nee Tell Your Children), preceded by three shorts: More Dangerous Than Dynamite (which warns housewives not to wash stuff in gasoline), Grass (which teaches you to make trash and demonic figurines out of grass, and was the highlight of the night), and the animated Frozen Frolics (I have no effing clue).   Also featured were two original cartoons by Rich "Lowtax" Kyanka of Something Awful and his five-year-old daughter.
3. You need more than a bottle of seltzer to survive the Arctic tundra.
The RiffTrax experience (cripes, don't we sound posh) starts well before the advertised showtime.  They bring along parodies of pre-preview trivia cards and pump their own parody songs through the speakers rather than the theatre's regular radio.  During the show itself you get occasional picture-in-picture view of the riffers at their posts, though more often than not you get a clear view of the movie itself — none of the familiar silhouettes here.
I suppose Reefer Madness is a far shorter movie than I thought it'd be, because with that and all three shorts, the whole show came out to under two hours.  Those two hours are pretty packed, though; and while this go round's movie was not quite as fantastic as their Plan 9 treatment (here, the shorts outstripped the main feature by way of humor value, with Grass being hilarious enough to reduce myself and my viewing companions to tears), it was still up to the standards I've come to expect from these guys.
And there's something to be said for the ambience of it all.  No one there was in the mindset of going out to a movie: they were going out to "see RiffTrax do a movie."  Having been to two such shows now, I've started getting a feel for it as the event it really is.  It's a twisted version of an old-fashioned night at the pictures — the sort of experience you're not likely to get at a mainstream movie theatre anymore.
Fortunately for fans, that appeal has been far-reaching enough that we'll be getting another such show not much more than two months from now.  As a Hallowe'en treat, there will be a special RiffTrax showing of the classic Vincent Price horror film House on Haunted Hill in select theatres on October 28.  Presumably we will also be treated to more mind-bending shorts beforehand, as well.
If you're regretting missing Reefer Madness, there will be an encore showing on the 24th.  Check the Fathom Events website to find the showing closest to you.