Blightyvision: "Jonathan Creek" Series 2-4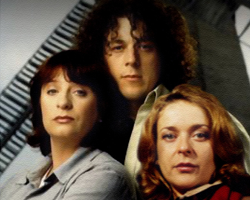 Created by David Renwick
Starring Alan Davies, Caroline Quentin, and Julia Sawalha
To be completely honest, and as I mentioned last week, recently I've become fearful of the quality of a show the longer it goes on, especially a show whose appeal comes from its cleverness.  The up-side of one writer per show is consistency and faithfulness to the material; the down-side is that, if the writer begins to run out of steam, you can see it.  I was relieved to see that David Renwick is not one of these sorts, though I must say sometimes I'm a bit disconcerted by just how many ways he can come up with to kill and hide a person.
"Jonathan Creek" continues, at least for the second and third series, as it did for the first: the formula holds true, with Alan Davies returning as the antisocial magician's assistant and Caroline Quentin as his nosy reporter sidekick.  Here, though, the background plot of the series begins to move itself forward: through Jonathan, Maddy begins to find a level of fame, turning their exploits into a bestselling book.  Much to her chagrin, however, Jonathan becomes the fan favorite, attracting everything from underage fangirls to Creek cosplayers.  He manages to take it in some level of stride, never (or at least rarely) letting himself get distracted from the matter at hand: be it vanishing paintings, demonic curses, or more than one case of walking dead.
Wedged nicely between the second and third series is "Black Canary," a Christmas special that would later set the stage for feasible continuations of the show.  Comedian Rik Mayall pokes his head in as a rival detective whose old-school police know-how is nearly a match for Jonathan's intellect — a shtick that is initially tiresome, but grows interesting as the special progresses.
The third series ended in 2000, with Quentin leaving the show to start a family.  It wasn't until 2001 that it returned in the form of another Christmas special, "Satan's Chimney," featuring cameos from second Romana Mary Tamm as an actress shot through an (unbroken) plate glass window, and Bill Bailey as a sketchy street magician.  The special also saw the debut of "AbFab"'s Julia Sawalha as Jonathan's new cohort, theatrical agent Carla Borrego.  And I'm going to be indelicate: while I tend to be forgiving of people taking over for others in TV shows, the simple fact is that Carla as a character is … well … bleeding annoying.
When the show kicked off again with a fourth full series in 2003, Carla (now a newsreader married to "Young Ones" alum Adrian Edmonson) has replaced Maddy as the woman in Jonathan's life.  Except in this case, the two did have "something" in between series, which ended disastrously and devolved into a rather soppy unresolved tension.  The charisma isn't there, and it's hard to decide whether this is the fault of Sawalha as an actress or Carla as a character.  I was hoping to have her grow on me, as were my fellow viewers, but her presence and the forced attempt at under-the-radar romance left me a bit cold.  The good side?  The introduction of Carla gave the opportunity to push Jonathan more into the limelight, pulling him into television and further fame.  But his attitude never changes, and the show isn't wrecked over the sudden change.
One replacement-and-return that fared well?  Stuart Milligan is back as Jonathan's boss, the sleazy stage illusionist Adam Klaus.  His presence, and his ever-improving characterization, more than make up for the wet blanket that is Carla.  If there was any change the show formula could benefit from after the first series, the addition of more behind-the-scenes action at Jonathan's day job was it.  The characters become more and more real to us as the series go on, without ever dissolving the essence of the murder mysteries surrounding them.
And fortunately for long-time fans, Sawalha does eventually get replaced.  Because, believe it or not, Jonathan's exploits continue after this.  But that is, as I've said elsewhere, another review for another time.
"Jonathan Creek" is available on multiple discs covering Series 2, Series 3, and Series 4 separately, with a compilation of the specials available for pre-order.  This review brings the number of actors I will never be able to interview for the blog up to two.