The Wibbly-Wobbly Timey-Wimey Watchlist: "Outcasts"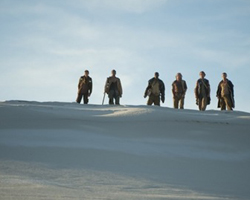 I am really, really torn about UK sci-fi/concept dramas in recent years.  I've never seen one that was "all right" — they're always either really fantastic or really terrible, and the only time I've ever been particularly apathetic about one is the occasional episode of "Doctor Who."  So I'm trying very, very hard not to get too excited about new ones as they come out, because there's always that fear of getting another "Demons" against my record.  (I am still not over that and I don't think I ever will be.  That show existed purely to spite me.  But I know if I keep this up I'll be asked to review it, so onward.)
So I absolutely refuse to get excited about "Outcasts," despite the impressive cast and crew behind it and the fact that it looks to have absolutely everything going for it, because that just seems to be asking for it.
Call it Lord of the Flies in space, I guess, because everyone else will — and show creator Ben Richards (also behind "Spooks" — MI-5″ to Colonials) has said that that was one of the inspirations for the series … or, rather, his dislike of it.  He said in a TCA report:
it suggests humans are inherently evil and children are filled with original sin and I don't believe that. I wanted to tell a story where humans are neither good nor bad, they're just human.
Said humans are played by Jamie Bamber (Apollo of "Battlestar Galactica"), "Ugly Betty" playboy Eric Mabius, "Ashes to Ashes" hate-magnet Daniel Mays, Liam Cunningham (Solon in the new Clash of the Titans), and "Spooks" alum Hermione Norris.  And that's to start; more impressive names are attached than I have time to type out.  The series follows these intrepid sorts as they build up and populate a new planet once Earth becomes uninhabitable (as usual).  With its multitude of characters, and backing from the ever-successful Kudos, this looks as though it could be one of the big …
… nope.  No, not gonna do it.  Doesn't matter how clever and interesting it looks.  Not gonna curse this baby.  Fingers crossed.
"Outcasts" is currently in production in South Africa, and will air on BBC One later this year, followed by an airing on BBC America early in 2011.  Honestly, anything that disses Lord of the Flies is pretty cool to begin with.
Posted on August 18, 2010 at 10:13 by
Kara Dennison
·
Permalink
In:
Columns
,
Television: British and Canadian
· Tagged with:
bbc america
,
BBC One
,
daniel mays
,
eric mabuys
,
hermione norris
,
jamie bamber
,
kudos
,
outcasts
,
sci fi