Comic Non-Sans: Gisèle Lagacé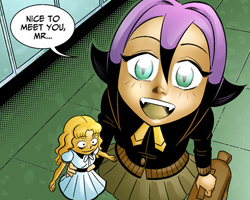 As my faithful readers saw last week (because I have faithful readers, right?), I'm devoting August's columns to proving that I am not the hardest-working person in webcomics.  To be honest, there are more examples here than I can cover in a month, so there's a certain amount of triage involved.  Which is a pity, because (as cosplay judges often say) I'd love to be able to recognize everyone.
Boiling it down to the select few, then, has involved pointing out the ones I look at during my daily reads and go "Wow, they're doing this, too!?"  That's what happened when I stumbled across Eerie Cuties during some idle link-clicking in my regular morning webcomic block.  This, the afore-reviewed Menage a 3, and (just prior to the former) the co-creation and long run of Penny and Aggie before handing off art duties to Jason Waltrip?
Considering I'd first encountered Gisèle Lagacé's work back in the Keenspace Before-Times via Cool Cat Studio, I found it amazing that she could not only maintain multiple projects at once, but leap from one to another with only two or three months in between.  Though it may not seem it, that level of gear-switching can be as tough as — if not tougher than — juggling multiple projects at the same time.
And the projects really have very little in common.  The two running at the moment — "Eerie Cuties" and "Menage a 3" — have few, if any, thematic elements tying them together.  I've covered the latter already.  The former, on the other hand, is a look at a school populated with supernatural creatures, which at once will make my readers scream "Anime!!!"  Well, yes and no.  "Eerie Cuties" is a lot more effective than most anime tackling the subject, in that the otherworldly occurrences spreading through the school (at the moment a possessed cross-dressing doll is running around the school with a giant sex-changing crystal ball) are actually depicted as realistic teenage problems.  No, really.  There's an odd down-to-earthness and honesty about the comic.
To be fair, differences in webcomic vibes are often due to the interaction between/among the co-creators, and I've sort of lost track of how many people Gis has worked with over the years.  I work with three myself and know that the dynamic between myself and each in particular is vastly different.  It can be, not due to the people themselves but just as a simple fact, difficult to jump between people with different writing styles on a regular basis, but handled well, it's seamless and believable in all respects.
In other words, there's not just the tangible workload to be taken into consideration: Gis is one of those who handles the mental and planning side of the process with ease, to the point that you might never realize exactly how much goes into what she does.  (Spoiler: a lot more than most people can do.)
"Cool Cat Studio" has long been in archives, and "Penny and Aggie" is now in the capable artistic hands of Jason Waltrip.  At the moment, "Eerie Cuties" is running every Monday and Wednesday, with "Menage a 3" still appearing every Tuesday, Thursday, and Saturday.