David Fincher picks Rooney Mara to be his Girl with the Dragon Tattoo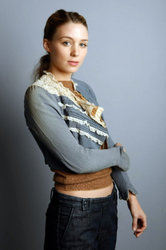 Well that took long enough.
In an exclusive at Deadline New York, it's revealed the Rooney Mara (A Nightmare on Elm Street, The Social Network) has joined the cast of David Fincher's adaptation of The Girl with the Dragon Tattoo as computer hacker Lisbeth Salander. The film's shoot begins in Sweden this fall, with a projected release on December 21, 2011.
The casting for the coveted role, performed by Noomi Rapace in the Swedish originals, has been hotly contested with a variety of young actresses attached, including Natalie Portman, Carey Mulligan, Mia Wasikowska, and Ellen Page. Fincher was reportedly looking to cast a relative unknown to star opposite Daniel Craig, who signed to play journalist Mikael Blomkvist.
The deal that Rooney signed during her auditions leaves options open to film the two other novels in Stieg Larsson's popular Millenium trilogy, The Girl who Played with Fire and The Girl who Kicked the Hornet's Nest.