Blightyvision: "Slings & Arrows" Seasons 2 and 3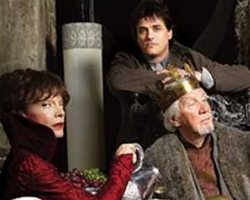 Created by Susan Coyne, Bob Martin, and Mark McKinney
Starring Paul Gross, Martha Burns, and Stephen Ouimette
Hearing during its run that "Slings & Arrows" was followed by a second (and then third) series made me a little nervous initially.  The original show was so nicely self-contained and had resolution enough to suit.  No cliffhangers, no cop-outs, just a nice natural ending as, say, the run of a play would have.  Though what never came to mind at that point was that, like the end of a run of a play, it is possible to come back in some respect.
The series that follow the New Burbage Theatre Festival's attempt (and eventual success) at staging Hamlet cover more of the Bard's works: the second focuses on Macbeth with some attention given simultaneously to Romeo & Juliet, and the third follows an equally disastrous run of King Lear. As with the first series, the plot of the show itself mirrors the play being staged, which by default knocks out any possibility of the show becoming repetitive or stale.
The second series picks up close to where the first left off, with the end of a successful run of Hamlet. The characters not ensconced at the theatre proper go their separate ways, clearing out for a new cast (and new interpersonal drama) to come in.  But the leading man couldn't be more different from last season's Hamlet.  At the request of the restless spirit Oliver, for whom apparently playing Yorick's skull wasn't enough closure, the paranoid artistic director Geoffrey Tennant hires veteran actor Henry Breedlove (Geraint Wyn Davies of "Forever Knight"). Breedlove is one of those Actorrrs: the kind who apparently knows what he's doing without help.  Geoffrey's treatment of Breedlove is a fantastic exercise in both ego-crunching and "theatre of the now" that falls somewhere between hilarity and brilliance.  Add to this his attempts to rescue a bleak Artsy production of R&J out from under the returning Darren Nichols, and the ever-increasing number of his nervous breakdowns isn't surprising.
But of all three series, the third one especially shines.  Oliver has one final request of Geoffrey: allow theatre legend Charles Kingman (William Hunt) to play King Lear one last time.  This time, his struggles with his leading man are anything but humorous — darkly or otherwise.  Kingman is the first of the show's tragic heroes to be truly tragic, as he suffers through both a battle with cancer leaving him with three months to live and a heroin addiction brought about by said struggle.  Meanwhile, Mark McKinney's Richard, who stayed pretty much as-is in the second season, begins evolving (or perhaps devolving) into a party animal after the success of a new musical staged by the festival.  As Lear collapses around Kingman, the musical thrives unexpectedly, causing rifts between both the single-season characters and the regulars.
Now, after all that talk, I'm going to make a confession: I hate Shakespeare.  Sorry, I do.  He's a formula writer and I got tired of him halfway through high school.  That said, "Slings & Arrows" has some of the most stunning performances I've ever seen of the plays themselves, and have made me legitimately enjoy Shakespeare for the first time in — let's be blunt — ever.  The plot of the show could hold itself up, but I found myself genuinely holding my breath for many of the actual show segments (especially Kingman's Lear).  And, at last, we get to see Paul Gross as Geoffrey perform extended scenes onstage.
Yes, some of the regular characters are incredibly slappable; fortunately, they're written that way.  Some of the one shots (especially in the final season) seemed shallow at first, and the time they had available to evolve was limited, but by the last episode or two they were just as impressive as one would expect of this writing team.  And, at the very end, there is a proper tie-up — yes, even for the ever-present Oliver, believe it or not.
"Slings & Arrows" is now available in a full box set: a perfect gift for actors, directors, and anyone who enjoys a bit of theatrical schadenfreude.